Last week, someone decided they no longer wanted their feline companion – and tossed him and all of his things to the curb in Brooklyn, New York. A passerby, Meredith Ferrel captured the heartbreaking photo, that was quickly posted to the Flatbush Area Team for Cats' (FAT Cats) Facebook page, calling for help catching the cat. Shortly after being spotted, the cat was scared away by a street sweeper and disappeared.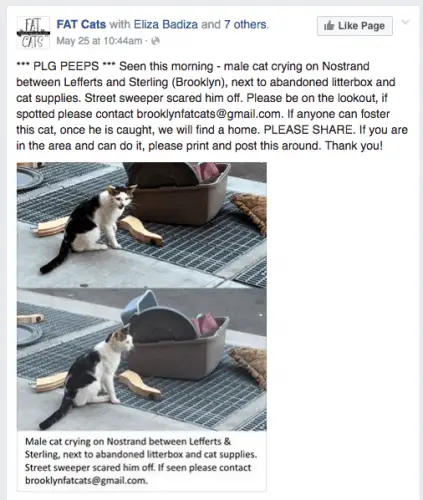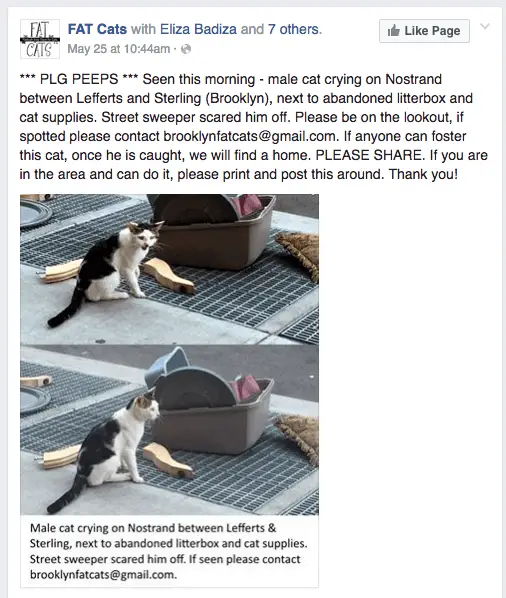 Later that day, FAT Cats posted the following to their Facebook page:
We would like to thank our neighbors, many of whom took time out of their day to look for this poor cat. Due to today's heat and the amount of construction and noise on Nostrand Ave today, it's our belief that he is hiding somewhere until things get quieter and cooler. We'll keep looking.
After several days of searching, the kitty – named Nostrand after the street he was abandoned on – finally turned up in the backyard of a cat rescuer (smart kitty!) named Karen Oh. FAT Cats updated with the following:
We immediately brought him to get vetted, and screened for a microchip. No microchip, but we are happy to say he is a healthy 1 year old male, FeLV/FIV negative, who was treated for fleas.

If you would like to donate for his vetting and eventual neuter you can do so here. We are an all volunteer group, no donation is too small and we are so grateful for anything! https://goo.gl/ZKwato
If you live in the New York City area and are interested in giving Nostrand a forever home, contact FAT Cats at brooklynfatcats@gmail.com.