We all know that cats love cardboard. It has a natural smell, helps regulate their body temperature and often comes in a shape that allows them to explore.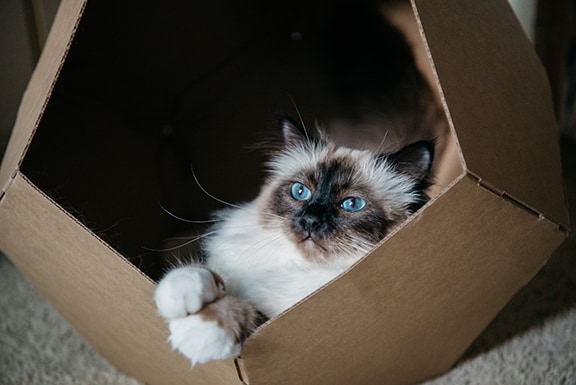 Many cat parents have the experience of buying a nice plush cat bed only to see their cat refuse it and lay on a hard floor or torn up box. Nearly all pet beds are made from polyester, which is a type of plastic. These polyester beds cannot be recycled and do not break down in the environment for many hundreds of years.  This results in cat parents trying to please their cat with something nice, only to inadvertently create waste the planet cannot digest.
Boba&Vespa co-founders Mariya and Chia noticed this and spent two years developing what they believe is the perfect cat hideout. Perfect for your cat, the planet and your home – the Water Gem.  They have brought the Water Gem to Kickstarter in an effort to raise awareness about plastic pollution in the pet industry and gain the funding needed to fulfill a production run of Water Gems.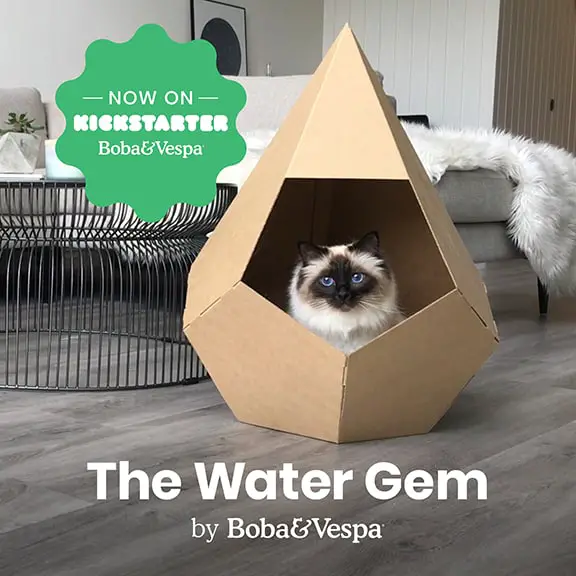 We asked Mariya to tell us more about Boba&Vespa. Here's what she had to say:
Chia and I used to be co-workers. The more we learned about plastic pollution, the more we started being conscious of our own habits. I started buying in bulk, carrying my own produce bags, cutlery, straws and so on. The harder I tried to reduce my use of disposable plastic, the more I realized it was nearly impossible. Then, I started discovering brands that were making it easier for me to reduce my dependence on cheap throwaway plastic. These brands did this by educating me and giving me solutions to my problems, not shaming and making me feel bad. I was really inspired by these brands.
Chia and I realized that Chia's house was full of cheap disposable plastic products. Things she regularly bought to spoil her furry feline children, Boba and Vespa.
Immediately we realized there wasn't a place for pet parents to go and shop eco-responsibly for their pets. It wasn't long after that Boba&Vespa was born – the brand on a mission to eliminate plastic pet products.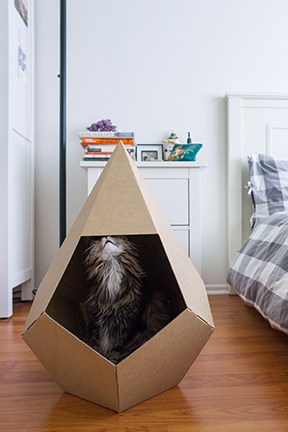 We wanted to start by bringing something familiar to pet parents that was extremely eco-friendly and plastic-free. Cardboard was that something. However, we didn't want to create just any other cardboard box. We spent two years, testing and perfecting what we believe is the best cat hideout on the market, the Water Gem. It looks simple, however, the size and shape of the Water Gem have been designed in ways that satisfy a cat's need for rest, play and safety, while looking very stylish in even the poshest living rooms. Most importantly, sourcing the Water Gem from sustainably forested cardboard and guaranteeing no plastic, including packaging, ensures the Water Gem is also safe for the planet. 
We have had nearly fifty kitties try out prototype Water Gems and every single cat has fallen in love with it almost immediately. We purposely sought out small cats, large cats, picky cats, etc. and all of them have enjoyed the Water Gem without fail. The two-piece construction of the Water Gem creates a very rigid structure. We still have two-year-old versions serving as kitty hideouts to this day. 
Used boxes often carry traces of whatever they were used for. It is nearly impossible to know that they are clean and safe for your cat. Polyester beds, on the other hand, shed microplastic every time your cat licks them. The Water Gem is a safe, eco-friendly option for pet parents who want the peace of mind of knowing their cat can lounge in comfort, style and planet-friendly fashion. 
We have launched the Water Gem on Kickstarter to gather pre-orders to fund the tooling for the first large scale production run. Beyond the Water Gem, Boba&Vespa is developing truly compostable cat litter and dog poo bags as well as hemp, cotton and other planet-friendly and pet-safe toys and beds. We truly hope that the cat community will back us on Kickstarter by ordering the Water Gem and help us all move one paw closer to plastic-free pets. 
You can help reduce your cat's carbon paw-print and order your own Water Gem here: https://www.kickstarter.com/projects/bobaandvespa/the-water-gem-the-hideout-designed-for-your-cat-and-planet