Like many newscasters and meteorologists around the country, Indiana's 14 First Alert Chief Meteorologist Jeff Lyons set up a green screen in his living room and has been giving weather forecasts from home during the coronavirus lockdown.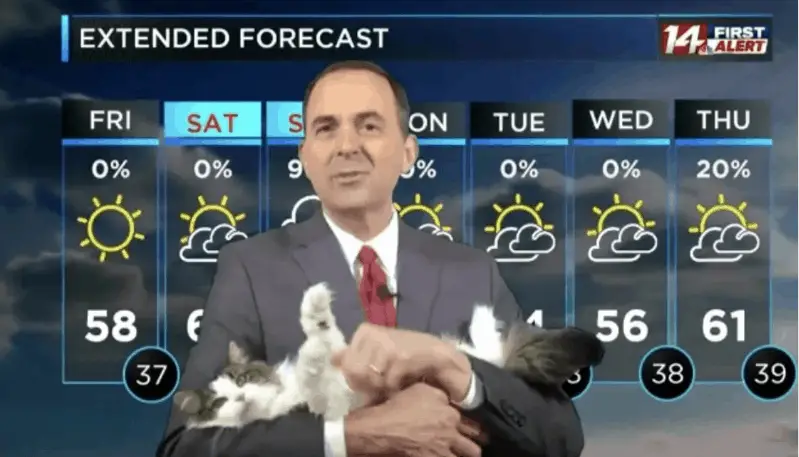 Anyone who's has a cat at home and has been working from home lately knows they always have to be right in the middle of whatever you're working on. It was no different for Lyons when his cat Betty decided to make her presence known — right in the middle of his forecast!
Lyons picked up his fluffy feline and cradled her in his arms while he talked about the weather— and she ended up taking the world by storm (pun totally intended). That clip ended up going viral, and now Betty the Weather Cat, as she's come to be known has become an unexpected weather mascot! The station has been sharing behind the scenes clips of Betty at home and hilarious graphics of her on Facebook, like this one :
and this one:
Since the first time she appeared on his show, Lyons and Betty have made several appearances together, but Jeff admits he's had to bribe her to work. (Can you blame her? Nobody wants to work for free!)
Sharing a photo of Betty on Facebook, Lyons wrote, "Co-Weathering with Betty. Two hams on the screen and a little ham on my fingers made it work…at least for awhile. Why do I get the feeling I'm performing tricks for the cat instead of the other way around?"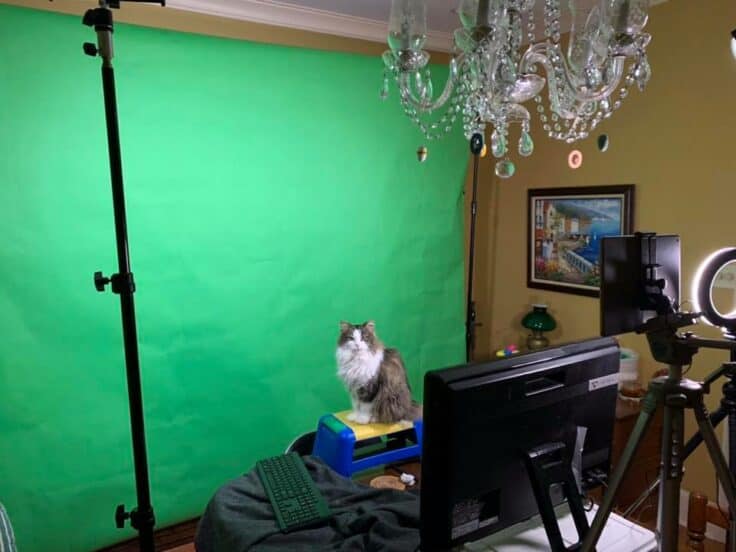 According to Bored Panda, When asked how Betty was adopted, Lyons reveals that his family was chosen by her. "Betty just showed up on our windowsill about 11 years ago. My daughter, who was 10 at the time, begged to keep her. I had always had cats growing up, so it was an easy sell, plus, I'm a softie!"
Lyons and his family, which includes his wife and 3 adult children are all isolating at home during the coronavirus pandemic. "We feel fortunate that we have this time together, and pray for those affected by the virus. We live in hope—like everyone–that this will pass soon," he said.