Cats love windows, it's essentially television for them. Blinds, on the other hand, they haven't quite got blinds figured out yet.
But that doesn't mean you have to ban your cat from the window sill. No, instead, we would recommend you try and find a set of blinds that your cat gets along with. This way, everybody wins!
Let's take a look at the options then, shall we?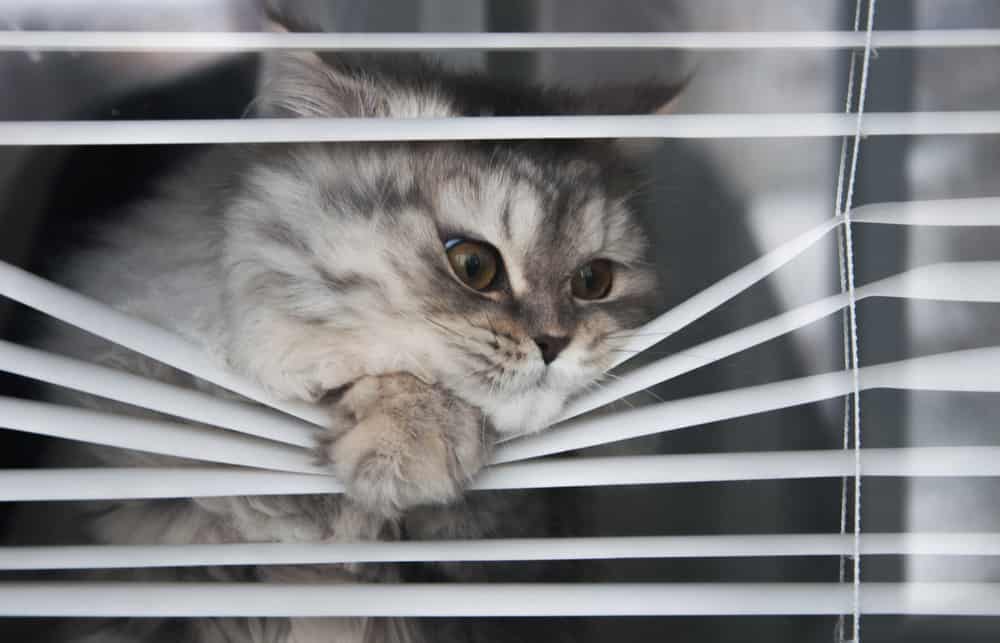 Faux-wood Venetian blinds – 4 paws out of 5:
As long as you keep the slats angled downward, Venetian blinds could be a great fit for your cat. They're sturdy enough too so your cat won't be able to damage them. Just make sure you tuck the cords behind the slats when you're out!
Electric blinds – 5 paws out of 5:
Cords might seem like a fun little game for a puss, but in reality they're just dangerous. That's why electric blinds are just so good for cats – you don't have to worry about cords at all!
Roller blinds – 3 paws out of 5:
Cats can't climb up roller blinds, so that's a plus? Kind of. While cats won't clamber up your roller blinds, they could well be ripping them down thanks to the fabric construction. Be sure to keep this in mind when making your decision.
Perfect fit blinds – 4 paws out of 5:
When it comes to cat safety, perfect fit blinds have two key things going for them: 1) they just clip into the window, meaning they have fewer structural features, and 2) like electric blinds, they tend to be cordless, so no choking hazards at all.
The downside is that, like roller blinds, they tend to be made of fabric, so they won't stand up well to damage.
Vertical blinds – 1 paw out of 5:
Unfortunately, there is nothing cat friendly about vertical blinds. Like perfect fit blinds, they have cords and tend to be made of fabric, two of our most common no-nos. But to top it off, vertical blinds have dangly slats, something that's only going to encourage more swiping.
Plantation shutters – 5 paws out of 5:
Plantation shutters might not be for everyone, but if you're looking for a sturdy window dressing that can endure even the most ambitious of cats, they can't be beaten. No cords, no fabric, just a strong wooden structure.
To give you a visual, our friends at Fraser James Blinds have created this awww-dorable infographic to help you choose the purrfect blinds for your house:

The Catington Post is reader-supported. That means, if you make a purchase through links on our site, we may earn an affiliate commission. All images and names which are not the property of The Catington Post are the property of their respective owners.