If you rent and have a cat, then you probably know how difficult it can be to find an apartment that will allow you to bring your feline friend along. Not every landlord allows cats – and finding one that does can be a challenge!
According to a recent study by Apartment List, renting an apartment with a cat is no problem if you live in The Woodlands, TX. It comes in at the top of the list – 100% of the apartments they surveyed allow renters to bring cats! 90% of landlords in Dunwoody, Georgia, allow renters to bring their cats.
Cities in the Houston area accounted for three of the top 50 cat friendliest cities –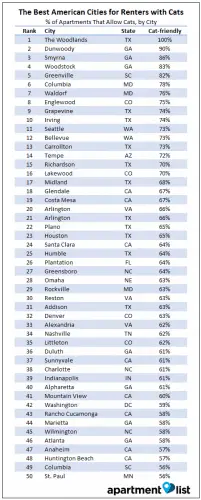 Houston and Humble followed with 65% and 64% to place them at #23 and #25, respectively. Other cities in Texas did well too, with 7 cities in the Dallas area making the top 50: Grapevine (74%), Irving (74%), Carrollton (73%), Richardson (70%), Arlington (66%), Plano (65%), and Addison (63%) all made the list.
Other cities that did well are Seattle (73%), Denver (63%), Indianapolis (61%), Washington DC (59%), and Dallas and Minneapolis (53%).
So which states were the most cat-friendly? States in the Northeast seem particularly unwelcoming to cats– New York (17%), Vermont (24%), New Jersey (24%) and Rhode Island (29%) were all near the bottom of the list. South Dakota topped the list, with 71% of apartments allowing cats. Minnesota, Colorado, Washington, and Nebraska rounded out the top five.
Is your state cat friendly for renters? Check out the full list here.