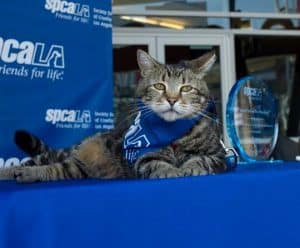 Yes, you read that right. For the first time in 33 years, the SPCA of Los Angeles' National Hero Dog Award was given to a cat!
Remember Tara, the tabby cat who bravely saved her human brother from a dog attack? 
On May 13, 2014, 5 year old Jeremy Triantafilo was playing in the front yard with his mother, Erica and Tara nearby. The next door neighbor's dog escaped from their yard as they were pulling out of their driveway. The dog charged Jeremy, sunk his teeth into his leg, and pulled him off his bike while violently shaking him. Before Erica even had a chance to react, Tara sprang into action, knocking the dog off Jeremy, and chasing him out of the Triantafilo's yard.
Tara's heroic act was caught on the family's security camera. Jeremy's father, Roger uploaded the video to YouTube and Tara instantly became famous for her act of bravery. To date, Tara's video has more than 24,000,000 hits.
"We were so impressed by Tara's bravery and fast action that the selection committee decided that a cat this spectacular should be the National Hero Dog" said spcaLA President, Madeline Bernstein. "A cat who was abused, forgotten, or neglected by her family would not have been as likely to perform selfless, heroic acts to save her companion."