Winter weather is in full swing for many parts of the country and many parts of the country are already experiencing snowfall, ice, and sub-freezing temperatures. It's a time to get cozy, break out the blankets, light the fireplace, and cuddle with your furriest feline friends.
But the cuddly winter season isn't without its hazards. Unless a trip to the veterinary emergency room is on your winter to-do list, follow these winter safety tips from our friends at CareCredit to help ensure this season is your safest one yet: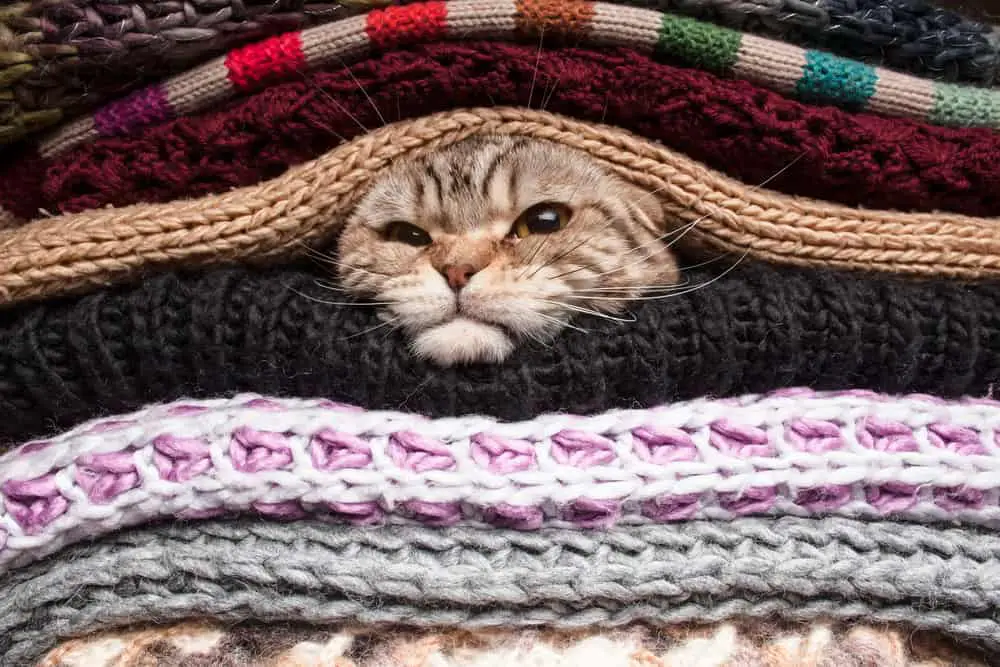 1. Don't play with fire.
Whether you're lighting candles or warming your home with a crackling fireplace, always keep curious noses away from open flames. Keep candles out of reach and keep a screen in front of your fireplace. Never leave a space heater or heated blanket unattended.
2. Know what plants are poisonous.
So many popular winter-time plants are toxic to cats — poinsettias, holly, and mistletoe, to name a few. Any time you bring a new plant into your home, check first that it's safe for your cat.  
3. Watch out for antifreeze.
Lots of cars leak antifreeze and it is, unfortunately, very appealing to our pets. They love the taste and smell — and as little as one tablespoon of antifreeze ingested can be fatal if untreated. Always watch out for puddles of antifreeze if you let your cat into your garage or outdoors.
4. Protect the paws.
Cats can get frostbite, particularly on their paws. Ice, snow, even frozen driveways, and sidewalks can lead to frostbite on unprotected paws. If your cat is allowed to go outside, be sure to clean any snow, salt, or ice from their paws and between their toes when they come back in. Ice melt salt used on roads and sidewalks can be highly toxic to cats and can cause anything from mild paw irritation to acute kidney failure, so be sure your cat doesn't ingest any of it by licking it from their paws. Even if your cat stays strictly indoors, be sure you don't track any salt in on the bottom of your shoes.
5. Bundle up when temps go down.
While most cats are perfectly suited for freezing temperatures in their own fur coats, many cats will be more comfortable if they have a warm place to rest when the air gets chilly. Senior cats, very young kittens, and those with illnesses or injuries would love to have a self-warming or heated bed to relax in when they cold.
Even the most cautious, caring pet parents can be faced with an accident or emergency. In fact, 4 out of 5 pets will have a medical emergency in their lifetime according to Pets Best pet health insurance, part of the CareCredit family.† Those unexpected illnesses can cost thousands of dollars. Thankfully, having a CareCredit credit card in your pocket will give you comfort during an otherwise chaotic season. 
From routine appointments to emergency situations or surgeries, the CareCredit card gives pet parents peace of mind knowing you're prepared with a budget-friendly way to pay for the care your cat (and other pets!) may need. Unlike traditional pet financing or veterinary payment plans, the CareCredit credit card gives you the flexibility to use your card again and again for your pet's procedures.* So, if you use your card for an emergency, you can use it again for any follow-up appointments. You can even use it down the road for routine vaccinations and wellness visits, too.
Watch how the CareCredit credit card was there for Ginger when she needed veterinary financing for emergency vet services for her cat, Panda:
With these cold-weather precautions preparations in place, you and your cat can have a wonderful season!
†Pets Best claims data 2015–3/31/2020 for unexpected medical care.
*Subject to credit approval.
The content is subject to change without notice and provided solely for your convenience. You are urged to consult with your individual advisors with respect to any information presented. Neither Synchrony nor any of its affiliates, including CareCredit, make any representations or warranties regarding this content and accepts no liability for any loss or harm arising from the use of the information provided.