Cats and Halloween are a match made in heaven, or should we say, a match made in some dark, eerie corner of a haunted house? Imagine this, you're a proud cat parent and Halloween enthusiast. What could be better than combining your two passions in life? That's right, nothing! Cat-themed Halloween decor is the purrfect way to express your love for your feline friends during the spookiest season of the year. It's the ideal time to let your inner cat lady or cat gent shine through. From black cat pumpkins to kitty ghost lanterns, the possibilities are as endless as a cat's curiosity.
So, buckle up for a magical, cat-themed Halloween decor ride. We promise it'll be more treat than trick! With these tips and ideas, get ready to pounce into the spirit of Halloween with a feline twist that would make any cat (and hooman) proud.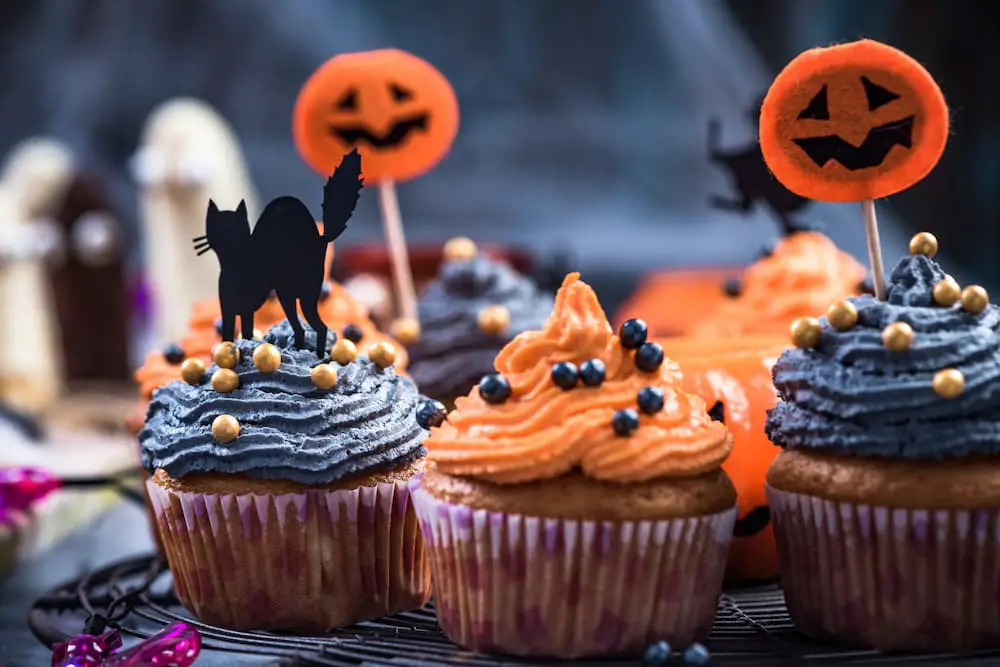 Cat-Themed Halloween Decor Ideas
When it comes to cat-inspired pumpkin carving, the world is your litter box. You could create a classic spooky black cat with an arched back or a cute kitty with wide, innocent eyes. If you want to step up your game, consider carving the likeness of your own furball on a pumpkin. You can find plenty of cat-themed carving templates online, or if you're feeling artistically adventurous, freestyle it!
Moving on to window decor, the silhouette of a cat can be both mysterious and endearing, making it a great addition to your Halloween setup. You can create these silhouettes using black construction paper or vinyl adhesive for a more professional look. Strategically place them on your windows so when the lights are on, these feline figures cast an enchanting shadow, adding to the eeriness of All Hallow's Eve.
For those who love DIY projects, making a cat-themed garland or bunting is an entertaining and rewarding task. Use cardstock or felt in traditional Halloween colors – think black, orange, and purple. Cut out cat-shaped silhouettes and string them together for a festive bunting. Alternatively, for the decorative pillows and throws, there is a wide array of Halloween-themed options available online or in stores. A pumpkin-orange throw with black cat pattern not only adds a warm and cozy feel to your living space but also boldly announces your love for cats and Halloween.
Cat-Friendly Halloween Decorations
While setting up your Halloween decor, always keep in mind the safety of your furry friends. After all, their curiosity might lead them to give your decorations a closer inspection. Not all materials are feline-friendly, and it's crucial to avoid those that pose potential hazards. For example, craft glitters might make your decorations shine but can be harmful if ingested by cats. Similarly, certain types of paints or adhesives may be toxic to cats. Instead, opt for pet-safe materials like non-toxic paints and fabrics.
The Halloween season is a great opportunity to incorporate your cat's playthings into your decor. You can hang cat toys around the house; they'll serve as cute, themed decorations and also keep your playful furball entertained. But remember, not all hanging decorations are suitable for cats. Avoid objects with small parts that can be a choking hazard or material that may entangle your pet.
As for treats, consider getting cat-themed bowls to hold your Halloween candies. Not only will they add to your festive decor, but they're also a fun way to show off your love for cats. And don't forget to fill another bowl with cat-safe treats. That way, when you're indulging in your Halloween sweets, your feline friend can join in on the fun! Be sure to keep the candies out of your cat's reach, though. While you might enjoy them, candies (especially chocolate) can be harmful to cats.
Outdoor Cat-themed Halloween Decor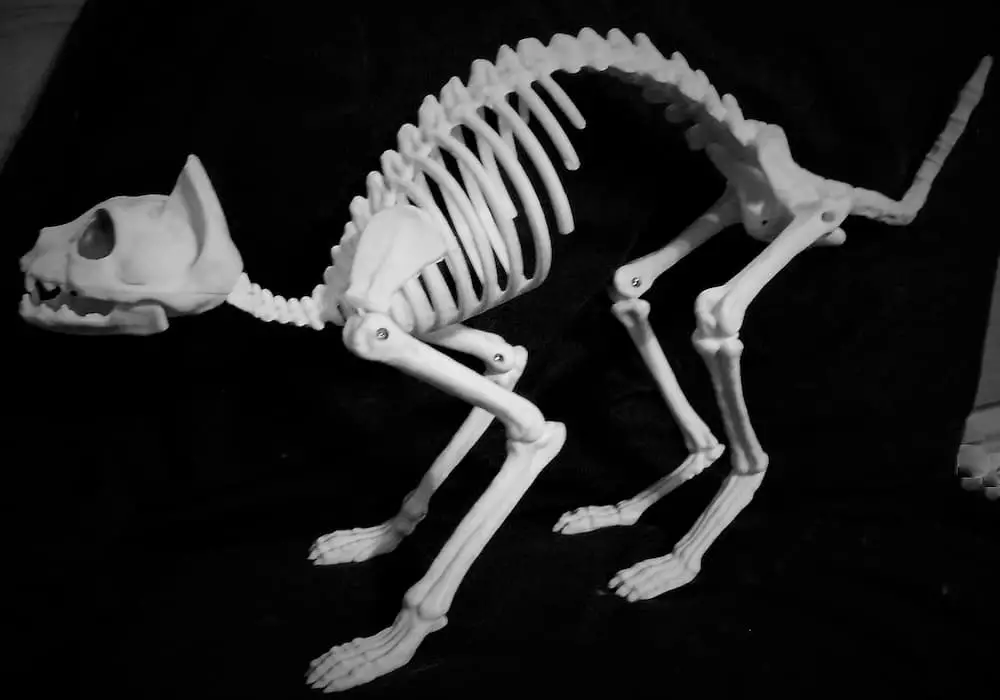 For outdoor decor, cat garden statues can add a whimsical or spooky touch, depending on your style. You can find statues of black cats in various poses, realistic cat sculptures, or even Halloween-themed cat statues adorning witch hats or capes. These statues can be nestled among your plants or lined along your walkway, greeting trick-or-treaters with their feline charm. If you're looking for a more subtle look, consider placing smaller statues in unexpected corners, adding a playful element of surprise to your garden.
Decorating pumpkins with cat motifs for your yard is another splendid idea. You can paint a pumpkin black and then draw or carve a cat face on it, or go all out and carve a three-dimensional cat figure. Whether you choose to line them along your driveway, place them on your porch, or nestle them in your garden, cat-themed pumpkins are guaranteed to stand out. Illuminate them from within with a candle or LED lights to create a captivating night-time display.
And for the pièce de résistance, consider Halloween yard art for cat lovers. Inflatable Halloween cats are an absolute crowd-pleaser. With their larger-than-life presence, they make a bold statement and are impossible to miss. Alternatively, skeletal cats can be a spooky addition to your Halloween landscape. Position them in unexpected places, like creeping out from a bush or perched on a tree branch, for maximum spook factor.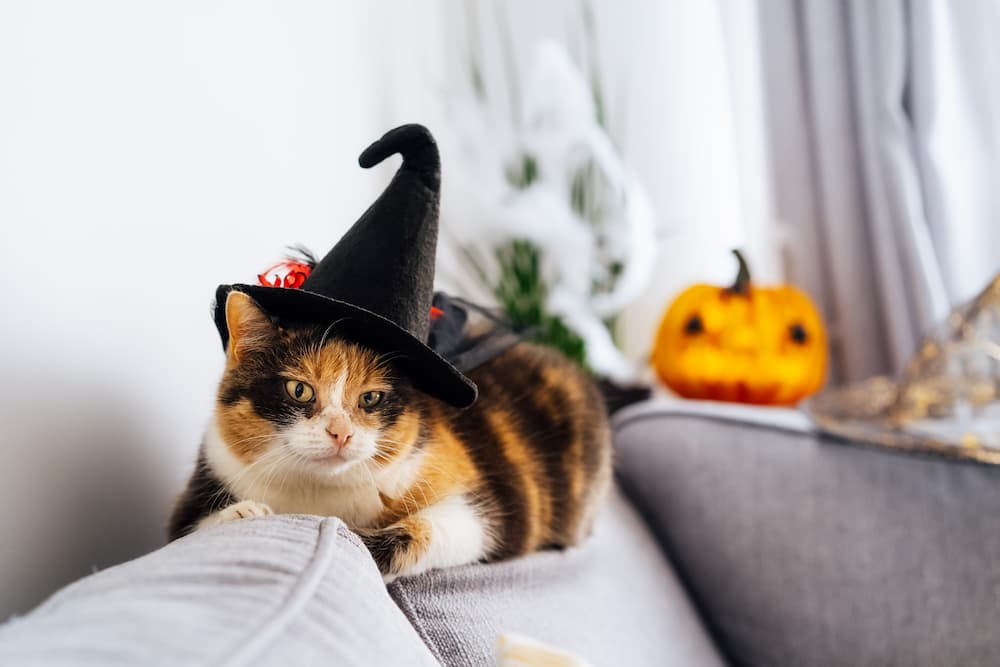 Conclusion
Incorporating your love for cats into your Halloween decor can make this season even more enchanting. From cat-themed pumpkins and windows, cat-friendly decorations, to outdoor cat statues, there are countless ways to express your feline fascination while embracing the spirit of All Hallow's Eve. Always remember to prioritize the safety of your furry friends while choosing your materials and decorations. With a bit of creativity and careful planning, you can create a Halloween setup that both you and your cat will adore.
When the day of spooky fun finally arrives, you'll find your home has transformed into a cat lover's Halloween haven. It'll be a space that not only celebrates the season but also pays tribute to your fluffy companions. And while you're gorging on Halloween candies from your cat-themed bowls, don't forget to treat your feline friend to some pet-safe goodies. After all, they're a part of the celebration too!
The Catington Post is reader-supported. That means, if you make a purchase through links on our site, we may earn an affiliate commission. All images and names which are not the property of The Catington Post are the property of their respective owners.