Have you always wanted to have an original painting commissioned of your cat but didn't think you could afford it? Don't we all? Well Pixelist, the folks behind Barkmeow have changed that – in a big way! Custom paintings of your pet are not only totally accessible, but every purchase helps pay for shelter pets get to vaccinated, microchipped and licensed. How cool is that?!
First, you've got to see the mind-blowing quality of Barkmeow custom painting. Check this out:
When Barkmeow reached out to me and offered me a painting, I had just lost my sweet girl Helen to chronic kidney disease. I knew a painting of her would be a wonderful part of my healing process, and something I would cherish forever. I sent them my favorite photo of her and a few weeks later – much sooner than I had anticipated – a package arrived at my door. I slid the painting out of the package (holding my breath) and was absolutely blown away. They nailed it! The artist managed to capture her likeness, her spirit, her purr-sonality… exactly.
I was impressed by their attention to the details. Not only in the painting, of course, but in the quality of the canvas. It's stretched over a thick wood frame, trimmed in felt, and ready to hang. It even has a tag that's signed by the artist. This piece has been treated like a fine piece of art – like a museum piece. That's how I feel about it, and I feel like the company treated it the same way – with love and respect.
That painting is my favorite piece of art that hangs on my wall and I imagine if you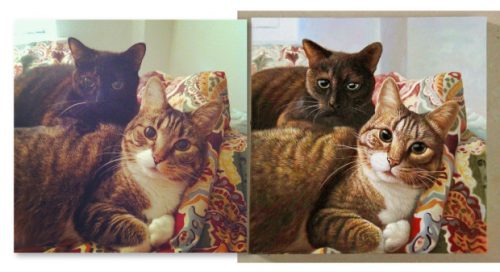 ordered from Barkmeow, you'd say the same about your piece!
Barkmeow launched an Indiegogo campaign that benefits the SPCA of Hong Kong. Each painting sold gets up to three dogs vaccinated, microchipped and licensed!
To get your own awesome, affordable painting (and help shelter pets while you're at it!) click on this Indigogo link: https://www.indiegogo.com/projects/barkmeow-a-whole-new-level-of-animal-awesomeness