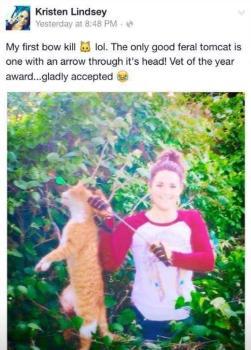 It's been two months since veterinarian Kristen Lindsey shot a cat with a bow and arrow and then bragged about it on Facebook. The photo went viral, causing outrage among animal lovers across the world.
Though she was fired from her veterinary job the day her photo went viral, the community called for animal abuse charges against her – signing petitions, calling the Austin County District Attorney's Office, and sending hundreds of letters, and even spawning a viral social media campaign in the name of the cat, #IAmTiger.
This morning, Ms. Lindsey appeared before the Grand Jury.
The Austin Country Grand Jury returned with a "no bill" against Lindsey, meaning – the veterinarian will not be charged. The district attorney's office said in a statement that there was insufficient evidence to convict Lindsey of animal abuse and there was a report that she may have believed the cat was rabid and she shot him to protect her own pets.
No, we don't believe her. Remember, Kristen Lindsey's original Facebook post bragging about killing the cat said "MY FIRST BOW KILL LOL. THE ONLY GOOD FERAL TOMCAT IS ONE WITH AN ARROW THROUGH IT'S HEAD. VET OF THE YEAR AWARD…GLADLY ACCEPTED!"
Those are the words of a sick abuser, not someone who is trying to protect her family from a rabid animal. Especially a veterinarian who would have access to humane methods of euthanizing an animal she believed to have rabies.
This is very disappointing news.