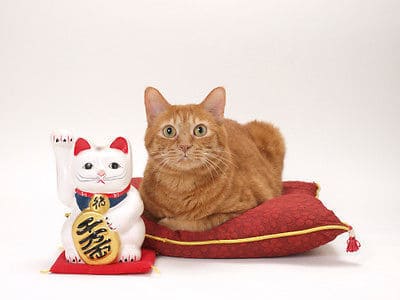 More likely than not, you've seen Maneki-Neko – the Japenese Lucky Cat. Maybe she was waving a paw from the front counter of your favorite Japanese restaurant or shop, in hopes that she'd bring luck and prosperity and more customers. Did you know, the cats color, her clothing, collar, and even what paw was raised where of special significance? For example, a white cat is said to bring good luck and a black cat will ward off evil spirits. A gold cat, commonly seen in shops, is said to bring good fortune, whereas a pink cat is said to bring love. Does the cat have her right paw raised? That brings good luck with money. Is her left paw up? That's for luck in the form of many customers. Maneki-neko might wear a scarf, a bell, a coin, and each trinket she is adorned with has it's own symbolism. Even the height of her paw bears a certain meaning!
So, what is the origin of the lucky cat? Well, there are many tales. One of the most popular stories is the Legend of the Gotokuji Temple. It is said that a wealthy samurai was taking shelter under a tree near the temple when he noticed the temple priest's cat beckoning to him to take shelter inside. Just as he approached the cat, the tree he'd been sheltering under was struck by lightning. Grateful that the cat had saved his life, the wealthy samurai gifted the temple with funding for it's upkeep. When the cat died, a statue was created in his likeness, thus creating the lucky cat we know today.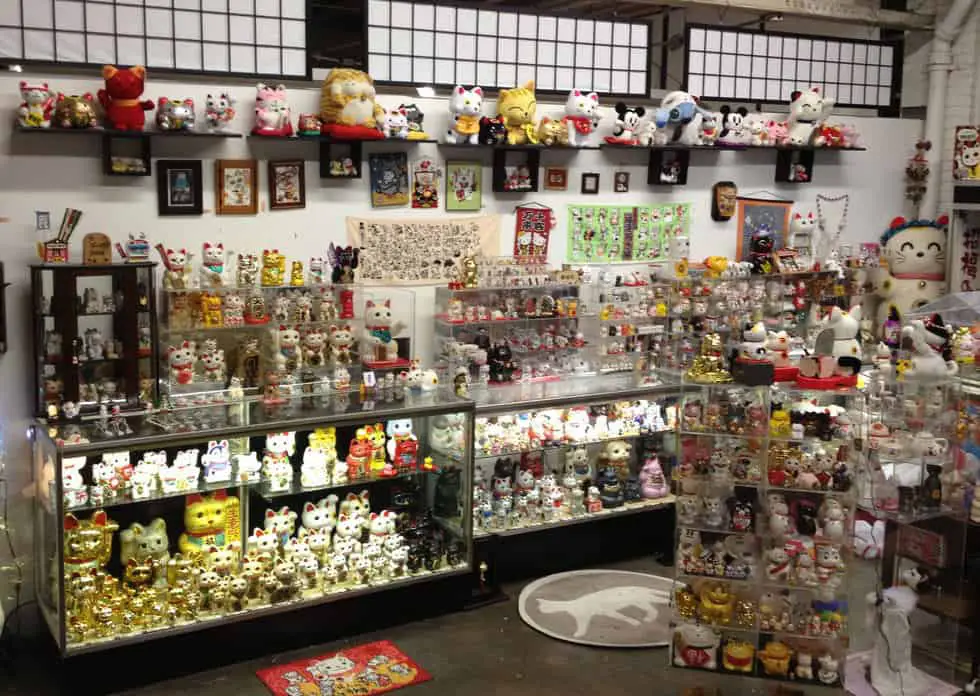 Cat lovers who travel to Cincinnati, Ohio can learn more about the lucky cat by checking out the Lucky Cat Museum – rows and rows of lucky felines line the walls and glass cases. Some come with extra arms, while some can wave and others' arms are molded into place. See ceramic and plastic cats, wood, stone, and metal cats, too. See plush lucky cats, toy cats, and cats decorated by modern artists. Currently the collection holds over 1,000 lucky cats, but is always growing. Of course, there's a gift shop so you can bring home your very own lucky cat. (And maybe pick up a lottery ticket for yourself on the way home…you will have been around a LOT of luck!)
The Lucky Cat Museum is open Tuesdays through Saturdays, from 3:00pm-6:00pm.  Learn more by visiting https://www.clockworkvoices.com/neko/.