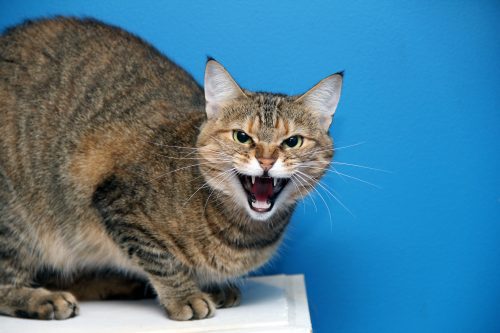 Last week, a woman called 911 in Greenfield, Wisconsin, to report her pet cat was holding her and her husband hostage in their own home. Yes, really. Here's the transcript:
Dispatch: "Greenfield Police Department, this is Luke how may I help you?"

Caller: "Hi. This is going to sound like a strange question, but we have a cat, and it's going crazy, and it's attacked my husband, and we're kind of hostage in our house. And we're just wondering who we can call to do something, get rid of the cat or help us."

Dispatch: "This is your cat?"

Caller: "It's our own cat, yes."

Dispatch: "So, it's your own pet?"

Caller: "Yes."

Dispatch: "Give me one second."
The couple were eventually rescued from their hostage situation: the cat was taken away, and turned over to Milwaukee Area Domestic Animal Control Commission (MADACC). No one was seriously hurt and Animal control said the cat is currently in quarantine.
While this is certainly an odd reason to call emergency services, it's not the first time it's happened. Last year, a couple in Florida were 'trapped' and had to call 911 when they were attacked by their cat and another family in Oregon famously barricaded themselves in a bedroom to escape their angry cat, Lux, a big black & white Himalayan mix.