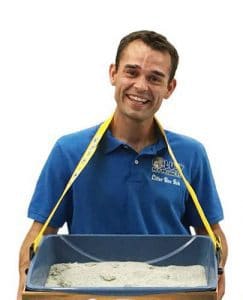 Always on the lookout for anything that has to do with cats, I was stopped in my tracks recently at the Global Pet Expo – a huge pet industry trade show. There was a man with a litter box strapped onto his chest, walking around daring people to smell it.
"Why not," I thought, and leaned in for a whiff. What did I smell? To be honest, nothing.
"You just smelled 5-day old used cat litter!" he said with a huge grin, and directed me toward the new Cats Incredible™SuperKittyKattakalizmik Klumping Litter with Smell Squashing technology.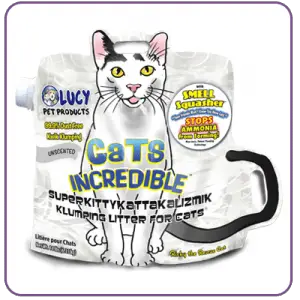 Needless to say, I was impressed. (I even took a second sniff, and sure enough there was no smell.) Then I spent some time with veterinarian, Karen "Doc Halligan" who explained just how dangerous the high levels of ammonia in cat litter are for their respiratory health. She explained how Cats Incredible litter has a unique, exclusive technology that actually stops ammonia from forming.
"Cat owners don't realize that even at very low levels, ammonia can cause eye, nose, throat, lung and skin irritation," said Doc Halligan. "At higher levels, it can cause nausea and vomiting, with intense burning of the eyes, nose, throat, skin and even death. With Cats Incredible, cat owners can rest assured knowing their cat's litter box is providing a safe ammonia-free environment."
Ammonia is formed from chemical reactions between enzymes from bacteria, which come from feces, the environment, plus urea from urine. Cats Incredible's Smell Squashing technology prevents this reaction – instead of just masking the smell – thus eliminating the ammonia exposure to cats and humans.
The hard clumping litter is 100% safe for cats. The "Smell Squasher" technology and litter contain NO harsh chemicals; it is totally safe for pets and people. Even if your cat licks its paws or fur after using the litter box, it is safe for them. The litter also comes in a really cool, easy-to-pour bag in 14 or 25 pound sizes.
What's more, Cats Incredible is a product of Lucy Pet Products, whose heritage is rooted in the Lucy Pet Foundation, caring for and helping animals in need. Every day, the Lucy Pet Foundation is working in local communities in partnerships with shelters, rescue groups, operating a mobile Spay & Neuter clinic and assisting with adoptions. Cats Incredible litter was launched as part of their 'Products With A Cause' program.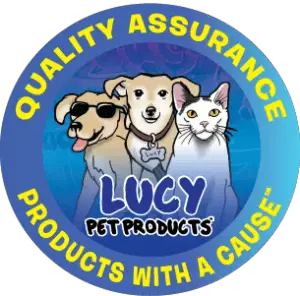 All profits of Cats Incredible™ are donated to the Lucy Pet Foundation to reduce pet overpopulation through mobile spay & neuter clinics as well as funding other animal related welfare causes.
Cats Incredible, like all Lucy Pet Products, will soon be available at Petco and independent pet specialty stores, and is available now online at www.LucyPetProducts.com.
To celebrate the launch of this PAWsome new litter (and the wonderful work of the Lucy Pet Foundation) we're giving away a 14 pound bag of Cats Incredible to 2 lucky winners! Enter below for your chance to win:
Limited to residents of the United States only, age 18 and older. Enter daily to increase your chance of winning! Giveaway ends May 18, 2016.
Editors Note: This post is sponsored by Lucy Pet Products, who provided compensation in the form of either product or payment. However, the opinions are 100% ours! We never recommend a product we aren't confident using with our own furry family.