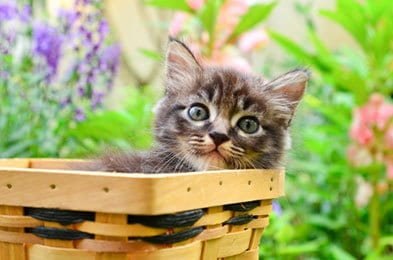 Adopting a kitten from a rescue site or shelter can be an amazing and rewarding experience, but there are a few considerations you should make before setting off to find the kitty of your dreams. First, you need to decide how much time you have to devote to your new baby. Are you busy and need a kitten that will require just the usual amount of attention? Or, are you willing to open your heart wider and take on the responsibility of adopting a special needs kitten who may have social or health problems, and may require extra time or financial resources in order to give your new love a chance at a happy life. While rescuing a neglected or abused kitten is admirable, be sure you are ready for the commitment. So, it's really important to plan ahead so you can find a suitable match for your household.
To aide in your search for a new healthy kitten, be aware of these 7 signs of illness in a kitty. Again, these are not necessarily reasons to avoid any particular cat, just to be aware of the extra care the cat may require.
Weight: If the cat is very thin or if her ribs are showing, the kitty could be malnourished or ill. An overweight cat may have been fed inappropriate foods and it can be hard to convince him that he should eat a healthier diet. Guidance is needed to get kitty back to normal weight, particularly for an overweight cat, as rapid weight loss can be dangerous. Also, if the kitty is on the thin side, she may also have worms. Medications may relieve this condition.
Fur and skin: Cuts or broken skin, matted or dull fur may indicate illness or neglect. Check for evidence of fleas (you may see tiny droppings left in the fur or on skin). This may be corrected with medications, but a severe infestation could mean the kitty is anemic which may be a larger problem to tend with.
Ears: If her ears are dirty or the kitty shakes her head often, this can be a sign of ear mites. While this too can be corrected, it often requires a lengthy course of medication.
Eyes: Runny eyes or discharge may indicate illness or infection.The third eyelid, a semi-transparent protective sheath that folds away into the corners of the eyes nearest the nose (also called a "haw"), should not be visible.
Respiratory: Any discharge or extreme dryness of the nose may indicate a problem. Any coughing or difficulty breathing may indicate a serious health problem.
Mouth: Pale gums may indicate poor health and redness or swelling in the gums can be an indicator of inflammation. Poor looking or missing teeth may indicate neglect.
Tail area: Dampness or the presence of fecal matter may suggest illness.
As noted by the Pet Connection, which is produced by a team of pet-care experts headed by "Good Morning America" and "The Dr. Oz Show" veterinarian, Dr. Marty Becker says
Even a healthy kitten will need your veterinarian's help to stay that way.
Further, the Pet Connection recommends:
Schedule a new-kitten exam and preventative-care consultation as soon as you get your new family member adopted.  Look for every opportunity to shape your kitten into a relaxed, confident, friendly, affectionate and well-behaved member of your family.
If you've recently adopted a kitten from your local shelter and have advice for choosing a healthy kitten that you would like to share with our other readers, we'd like to hear from you!  Please comment below to share any advice you may have!