The kitchen is a place full of tempting smells and dangerous hazards. For curious cats, it can be the ultimate playground – and a potential deathtrap. Here are some tips for keeping your feline friend safe in the kitchen.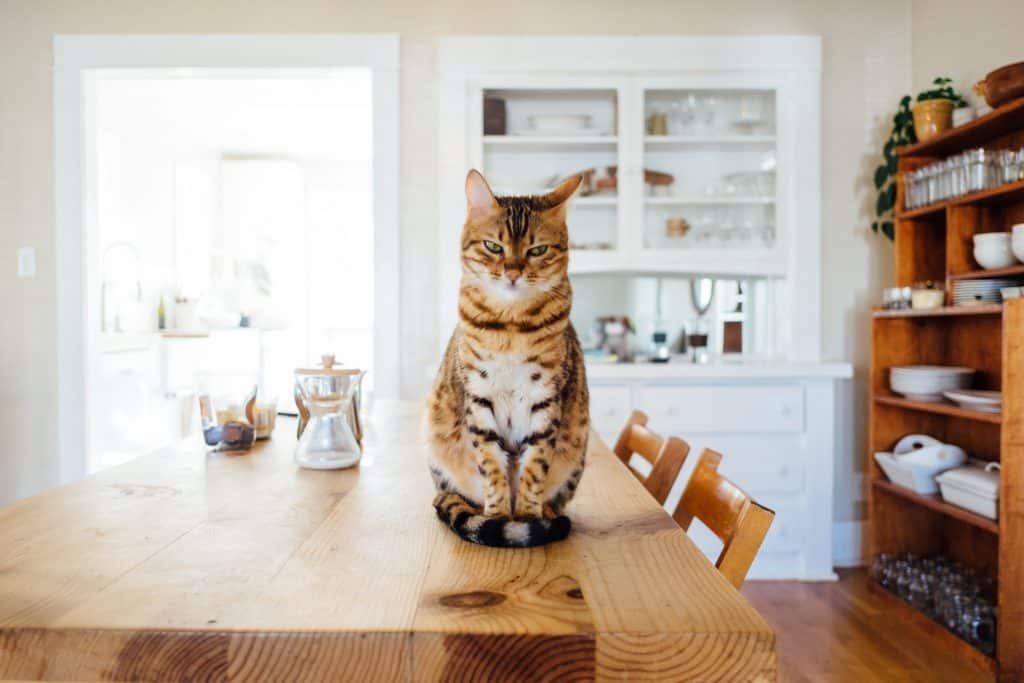 Train Your Cat To Stay Off The Counter
Cats love heights. If your cat keeps jumping up on counters or the dining table, you'll need the following things: placemats, double-sided tape, and patience. Stick the tape to the placemats and lay them sticky-side up on the surfaces your cat keeps jumping on. They don't like to have sticky paws so this trick can work wonders in training them to stay off.
Only take the placemats off when you're working in the kitchen. When you notice your cat changing their behavior, you can slowly start removing the sticky mats. If it starts jumping up again, start over. If their behavior has changed, you can eventually remove the mats entirely without worrying about your cat walking all over them.
More Hacks To Keep Your Cat Safe In The Kitchen
Kitties on countertops are not the only thing cat owners have to worry about in the kitchen. Here are a few more tips on how to catify your space:
Child-proof your cabinets and drawers. By installing locks or latches, you can keep your kitty out of kitchen cabinets. Just in case they work around these locks, store toxic chemicals in upper cabinets.
Store trash behind closed doors. The last thing you want to deal with is your cat tilting over your trash can and covering the whole house in garbage. Either invest in a pet-proof trash can or store it behind cabinet doors.
Install an induction cooktop. If you've tried everything but your cat still loves to jump on the counters, an induction cooktop can prevent dangerous burns. This type of stovetop only heats up pots and pans so it can cool down within minutes after cooking, making it a safer option with kids or animals in the house.
Keep your surfaces clear. This should go without saying but the less stuff you keep on your countertops, the less you'll entice your cat to push it off just for the heck of it. 
Don't feed your cat in the kitchen. Keep your cat feeder in a separate space like the laundry room or hallway so it won't associate your kitchen with food rewards. 
Don't feed human food to your kitty. You may unknowingly poison it. If you want to be extra sure, the American Animal Hospital Association has a list of foods that can be toxic to pets.
Accidents happen, so keep a first aid kit for your cat within reach and write down the phone number of your vet or closest animal hospital so you have it ready in the case of an emergency. 
If you'd like to learn more about pet safety in the kitchen and perhaps have other pets, like dogs, birds or fish, check out the visual below. It includes more helpful tips on keeping your kitchen intact and your pets safe from harm.
About the author:
Mona Freund grew up in Germany and now enjoys her life in sunny San Diego. When she's not creating content, you can find her baking cookies, surfing or playing with her puppy Pesto.
The Catington Post is reader-supported. That means, if you make a purchase through links on our site, we may earn an affiliate commission. All images and names which are not the property of The Catington Post are the property of their respective owners.