Not that we ever need an excuse to shower our felines with fondness, but Valentine's Day is a great excuse for some extra loving and why stop at our other halves? While your cat may glare with a vacant expression at a card and a box of chocolates, there are many ways that we can make our furry friends feel the love this Valentine's Day.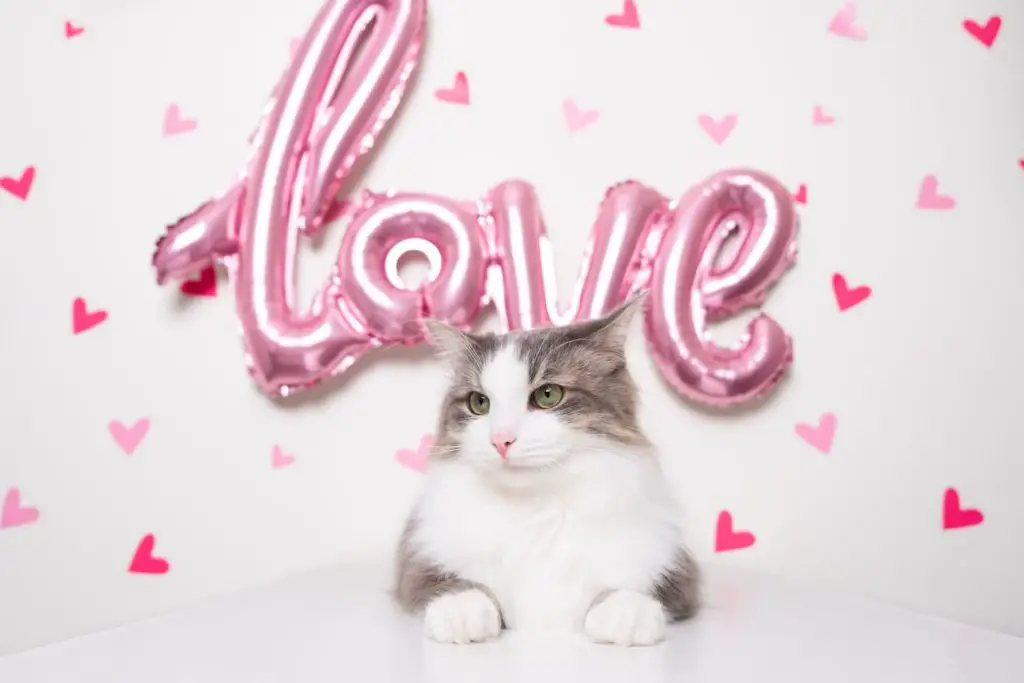 Here are some top tips for making your cat feel extra loved this Valentine's Day.
Play the day away
Once our kittens grow into adult cats, it can be all too easy to forget that they still love and need some playtime for their overall health and happiness, just like us! A good play-time session is a wonderful way to show your cat that you care and value quality time together. Of course, there are many toy options for engaging your cat in some playtime and you may already have a go-to toy of choice. Otherwise, hit the pet shop for some new and exciting toys for your kitty – playtime alleviates boredom, provides physical exercise and can relieve stress for both of you!
Snuggle up for a cuddly nap
You might both be tuckered-out after all that playtime, and nothing says 'I love you' like a good, ol' fashioned snuggle up. Make sure you have whatever you need at hand, too (tv remote, book, snacks etc.) so that you and kitty can get comfy and stay snuggled undisturbed for a decent amount of time. 
And, if you can't be around for nearly as much cuddle time as you would like, consider getting your cat a heated cat bed. Particularly in the winter months, a heated bed is like heaven to most cats. Cats look for warmth like a heat-seeking missile and will feel all the more loved if they find that the snug cat bed you have bought for them feels like a magical, extra-warm embrace.
Give them a bird's eye view
If you haven't already, Valentine's Day might be the perfect time to treat your kitty to a cat tree. Cats love to climb and observe the world below them from a nice, high vantage point. Cat trees also usually provide a comfy napping platform as well as making the tower itself out of material perfect as a scratching post on which your cat can flex their claws. Aim for a heavier duty model for sturdiness and stability, leaving your cat free to enjoy its tower without the wobbles.
Kitty spa day
Cats need some indulgent pampering, too! Perhaps pick up a new brush if needed and give them a deliciously long grooming session, with lots of massaging fuss thrown in. Then, perhaps onto their nails for some trimming. If trimming your cat's nails is necessary but something you feel nervous doing, then consult your vet or drop in pet-shop for some guidance to make sure that it is a positive experience for you both.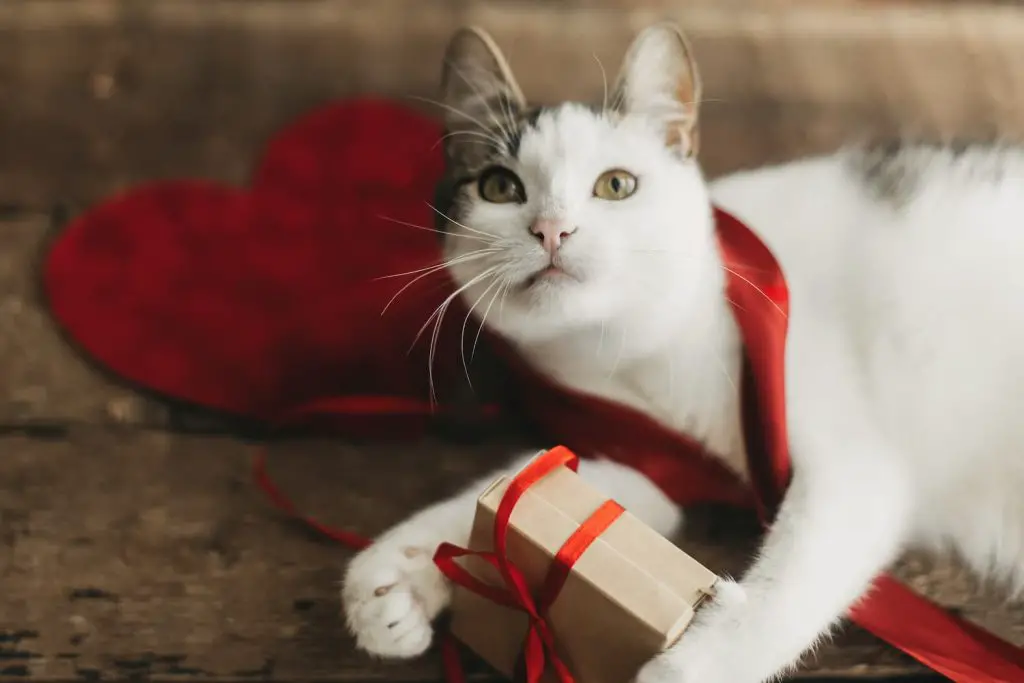 Give their taste buds a treat
Valentine's Day could be the perfect time to take your cat's treats up a notch and serve them something they aren't expecting. Many cats are purely fed on dry biscuit alone, or in combination with some wet pre-prepared cat foods. Whilst these nutritionally balanced options should remain the staple, cats are meat eaters and love nothing more than to chow down on some actual meat or fish as a treat. Just be sure to check what meats and fish are fine to feed them first – but the general rule is to make sure that it is cooked fish and that cooked meats don't contain any bones. If your cat is not used to being fed these foods, they will think all of their Christmases have come at once!
How will I know if they feel loved?
Cats that show signs of affection feel loved – but what are some of the signs of a cat's affection?
Body language – If they are winding between your legs, sitting close to you or offering their tummies up for a rub, these are clear signs of trust and affection from your cat
Purring – When a cat purrs away, they are not only vocalizing their own pleasure, but letting you know that they are enjoying the bonding experience
Eye contact – Cats only make eye contact with people they like and trust, and a long, lingering eye gaze is a good sign of love from a cat – and when they half-close their eyes and blink slowly at you, it is often translated as being an 'eye kiss' from a cat!
Don't go breaking their heart
Never, I hear you say! But, sometimes we can inadvertently do things to break a cat's spirit and of course, that's the last thing we want. Here are some of the most common ways that people accidentally break their kitty's heart:
Shouting – Cat's ears are very sensitive and shouting can be terrifying for them
Not cleaning out their litter box – Cats are very clean, proud creatures and it's hard for them when their private environment gets smelly and dirty
Ignoring signs of pain – If your cat is meowing loudly or otherwise acting strangely, it's important not to assume too easily that it is nothing – be sure to check thoroughly to see if they are hurt in some way and either way, give them lots of reassurance.
Valentine's Day is a celebration of love, so shower the cat you love with some extra love on the day of love – they'll love you all the more for it.
The Catington Post is reader-supported. That means, if you make a purchase through links on our site, we may earn an affiliate commission. All images and names which are not the property of The Catington Post are the property of their respective owners.