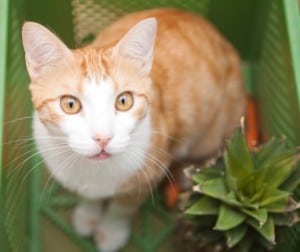 Yes. But hopefully not for long.
Depending on what part of the world you live in, eating a cat or dog may seem totally normal or absolutely disgusting. Eating meat from cats and dogs is considered acceptable in other countries, including parts of Asia. And while many Americans eat pigs or cows, the very thought of consuming meat from our beloved family pets might induce your gag reflex.
According to the Humane Society of America, the act of slaughtering cats and dogs and eating their meat is happening all across the state of Hawaii. They receive at least two reports a year of dogs or cats being slaughtered for food, but say it's hard for law enforcement to catch animal slaughterers. "Unless they are caught in the act," said Inga Gibson, Hawaii senior state director for the Humane Society, "law enforcement is not able to really prosecute."
There is a loophole in the  law that does not include cats and dogs specifically bred for human consumption. Apparently though, according to the Humane Society, many of these cats and dogs sold for human consumption are actually stolen pets or those acquired through "free to good home" ads.
The most well-known case to make headlines was that of Caddy, an 8-month-old Labrador mix who was stolen from the Moanalau Golf Club, after his owner had gained permission to leave him at an equipment shack while he golfed. Landscape workers at the club later pleaded guilty to stealing, butchering and eating the dog.
Last week, animal lovers packed a legislative hearing room urging lawmakers to ban the practice of eating cats and dogs in the state. The House committee advanced SB 2026, a bill to ban the practice.
The actual text of the bill, found here, reads:
Prohibits the slaughtering or trafficking of dogs or cats for human consumption. Amends the definition of "pet animal" in chapter 711, HRS, to include any dog or cat rather than only dogs or cats not bred for human consumption. (SD1)
The bill would amend the definition of "pet animal" in the state's revised statues to include any dog or cat rather than only dogs or cats not bred for human consumption. The Humane Society asked members of the public – including those outside of Hawaii- to contact members in support of fixing the loophole.
The committee of Agriculture amended the bill to include all pets, not just cats and dogs. Surprisingly, there was some opposition – Rep. Romy Cachola and Rep. Clift Tsuji voted against the measure, and several other lawmakers expressed reservations. The bill is now awaiting a hearing by the House Judiciary Committee.
For the record, the loophole that makes it technically legal to consume cat and dog in Hawaii also exists in the laws of most other US states. Hopefully this bill will pass and pave the road for other states to do the same.