Cats have a natural need to scratch. It is their way of marking territory, keeping their claws in good condition, and stretching their paw muscles and ligaments.
Although you can't stop kitty from doing what he instinctively needs to do, there are several ways you can prevent and limit the scratching in areas you want to preserve—like your beloved sofa!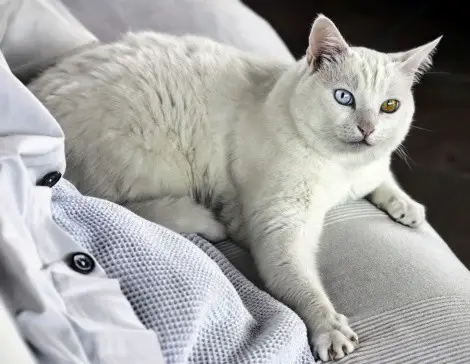 Tips to Keep Cats from Damaging the Furniture
1. Provide a few scratching posts. Getting a good post for your cat to scratch on is an excellent way to redirect her needs to mark and stretch. Because cats tend to be attracted to coarsely textured surfaces as their scratching spots, find a tall sturdy scratching post covered with a nubby fabric like sisal cloth or carpeting. Our cats absolutely love the SmartCat Ultimate Scratching Post. It stands tall enough that your cat can fully stretch her legs, but is narrow enough to place in front of the arm of a sofa to redirect destructive scratching.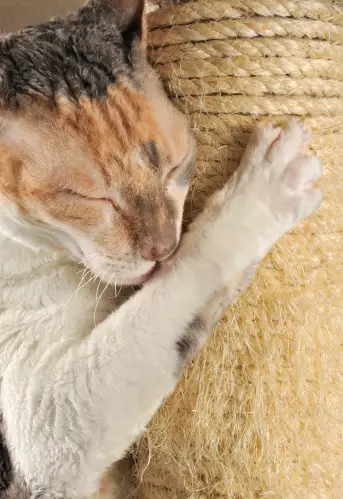 Some cats love the texture of corrugated cardboard, as it's designed to mimic tree bark. Corrugated cat scratchers are inexpensive and easy to place in areas where your cat tends to scratch. Make sure you put scratching posts where your cat can easily access them and put out several, at varying heights, shapes, and angles, to encourage more appropriate scratching and discover what your cat likes best. Most cats will instinctively scratch a cat scratcher, but you can encourage it by sprinkling some catnip into the nooks and crannies.
2. Remove temptations. In order for the scratching post to be the most, if not only, accessible and enticing thing for kitty to scratch on, restructure her environment in a way that will minimize the damage to furniture, draperies, and carpeting. Consider furnishing your home with tile or hardwood floors and smooth, slick upholstery.
Of course, re-furnishing the entire home to accommodate the cat isn't feasible for most of us. (And some of us just prefer fabric furniture to slick, shiny leather!) Many cat parents have had great success with cat-safe deterrent sprays and/or bitter apple spray, though some cats are completely undeterred.
You may be able to protect a favorite armchair or sofa cushion with a cleverly placed throw or blanket. To make this more effective, hide a piece of aluminum foil between the folds of the throw, so that it makes a crinkling sound that your cat won't like, should she jump on it. Or, affix strips of clear shipping tape to your cat's favorite scratching spot, encouraging her to look elsewhere.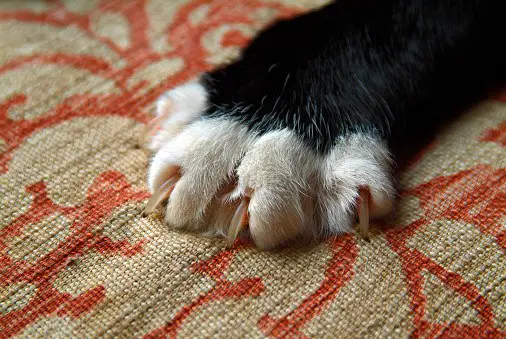 3. Other techniques. To minimize damages your cat can inflict, cut back her nails on a regular basis. If clipping nails is not an option, cat claw covers are a good choice. These are small, rubber tips that are fitted directly over your cat's sharp claws that reduce the damage that can be done.
RELATED: 3 Tips for Clipping Your Cat's Nails at Home
If your cat has already scratched a few objects, hide the damage from her view. This may mean covering the area of the furniture with a blanket or throw, or to completely get rid of scratched items. Because scratching leaves behind your cat's scent, you'll notice she returns to the same spot over and over again.
4. Reinforce good behavior. Make corrections to kitty's scratching habit but don't forget to reinforce appropriate scratching. If you see her scratching on her designated post, offer her a treat or a scratch on the chin, to reward her for good behavior.
It's not possible to eliminate scratching behavior altogether, but by offering suitable alternatives and then reinforcing appropriate behavior, your cat and your furniture can learn to live together in harmony.
Found this article helpful? Pin it!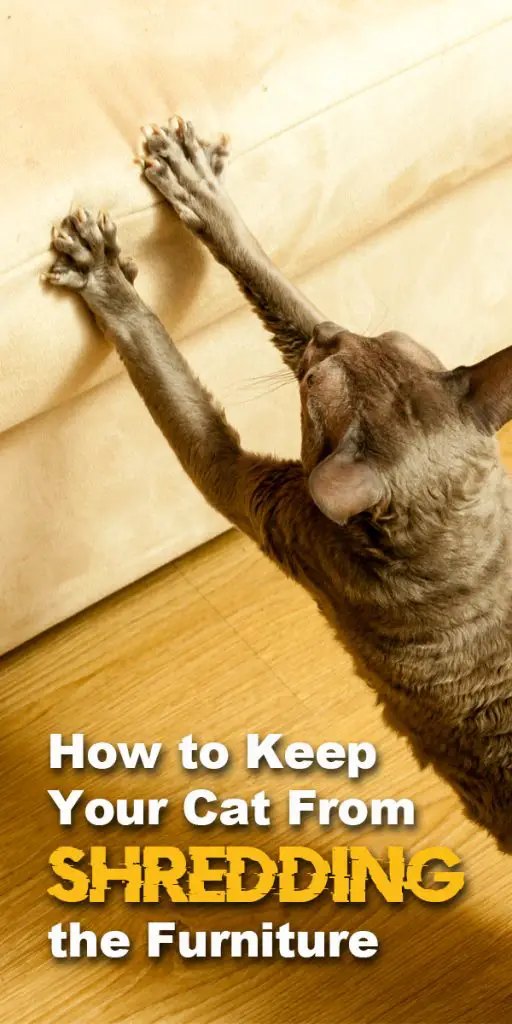 The Catington Post is reader-supported. That means, if you make a purchase through links on our site, we may earn an affiliate commission. All images and names which are not the property of The Catington Post are the property of their respective owners.