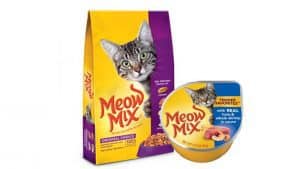 Big Heart Pet Brands linked to alleged slave labor in production of cat food.
Hagens Berman, a consumer-rights law firm has launched a nationwide investigation into Big Heart Pet Brands, makers of Meow Mix, for failing to disclose to consumers that the pet food manufacturer knowingly supports a system of slave labor and human trafficking to produce its Meow Mix cat food.
The firm recently filed suit against Nestle and Iams for the companies' involvement in slave labor production lines.
According to Hagens Berman, Big Heart Pet Brands works with a Thai partner, Thai Union Frozen Products PCL, to import more than 28 million pounds of seafood-based pet food for top brands sold in America – some ingredients of which were obtained through slave labor.
The firm hopes to finalize its investigation and seeks to deliver reimbursement to consumers who would not have purchased these products had they been aware of these human rights violations, and also seeks injunctive relief requiring Big Heart Pet Brands to end its deceptive marketing.
Individuals who live in California, who have purchased Meow Mix cat food and would not have if they had known about Big Heart Pet Brands' use of slave labor may contact Hagens Berman to find out more about their consumer rights here: https://www.hbsslaw.com/cases-and-investigations/cases/Meow-Mix-Slave-Labor.
Often trafficked from Thailand's poorer neighbors such as Cambodia and Burma, men and boys are sold to fishing boat captains needing crews to man their fishing boats, according to the complaint. The work is dangerous and exhausting with shifts lasting up to 20 hours a day with little or no pay, with refusal or failure to work to a supervisor's satisfaction resulting in beatings or even death.
Find out more about the firm's investigation against Big Heart Pet Brands: https://www.hbsslaw.com/cases-and-investigations/cases/Meow-Mix-Slave-Labor

About Hagens Berman
Hagens Berman Sobol Shapiro LLP is a consumer-rights class-action law firm with offices in 10 cities. The firm has been named to the National Law Journal's Plaintiffs' Hot List eight times. More about the law firm and its successes can be found at www.hbsslaw.com. Follow the firm for updates and news at @ClassActionLaw on Twitter.