In a world where the average lifespan for a cat is around 12-15 years, Flossie is a real senior citizen! At 26 years and 316 days old, she holds the Guinness World Record for World's Oldest Cat. This sweet & gentle tortie was recently adopted from Cats Protection, a shelter in the UK, and has quickly adjusted to her new home with Vicki Green. Despite being deaf and losing her sight, Flossie is in good health and loves to cuddle on her new favorite yellow blanket.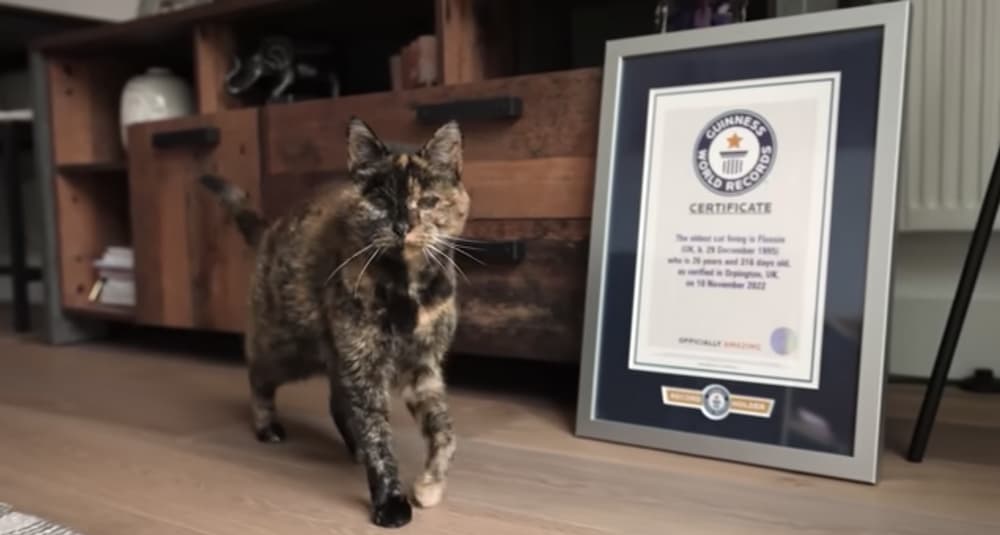 Vicki says she knew Flossie was special from the start, but never expected to share her home with a world record holder! Vicki is thankful for the opportunity to give Flossie a loving home and is helping her live out her golden years in comfort.
"She's so affectionate and playful, especially sweet when you remember how old she is. I'm immensely proud that Cats Protection matched me with such an amazing cat," she told Guinness World Records.
Check out this video of Flossie in her new home:
Flossie is proof that age should never be a barrier to finding love and a new home. Let's all take a page from Vicki and Flossie's story and remember that there is no age limit when it comes to compassion — and cats!
Flossie may be the oldest living cat, but the oldest cat that ever lived was Creme Puff, who lived until the staggering age of 38. We have our fingers crossed that Flossie will be able to beat Creme Puff's record and become officially recognized by Guinness World Records as the oldest living cat in history!
Interested in other World Records held by cats? Click here!
The Catington Post is reader-supported. That means, if you make a purchase through links on our site, we may earn an affiliate commission. All images and names which are not the property of The Catington Post are the property of their respective owners.