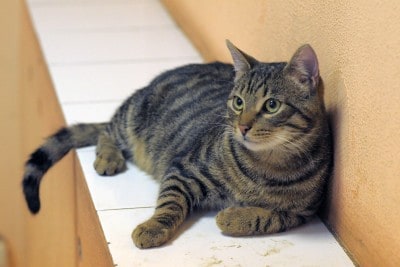 After exhausting all search efforts, and turning up no trace of their missing cat, the Allen family of Lismore Heights, Australia, gave up hope of ever finding her. Now, more than two long years after her disappearance, Miffy is back home where she belongs.
About two and a half years ago, the family moved from their home near the Lismore Square shopping center to their current home in Lismore Heights. A few months after their move, Miffy disappeared.
A surprising call from a local veterinarian on Wednesday changed everything.
"He said, 'have you got a cat called Miffy?' and I told him, well, not anymore, Miffy died a few years ago – he replied 'well actually, no she didn't,'" Allen told The Northern Star.
Turns out, Miffy had been living on the roof of a Kmart store near the family's former home. Perhaps in an effort to be found, Miffy was responsible for repeatedly setting off the store's alarms. Kmart employees caught the clever cat and took her to a local veterinarian that scanned her for a microchip.
It's unlikely that Miffy spent her entire 2 years on the streets, as she is well fed and healthy. And, when she disappeared she was wearing a pink collar, but found with a white one. "It would be good if she could talk – where have you been the last two years?" Ms Allen said.
Since being back at home, Miffy has already settled into her old, familiar spot on Tammy Allen's bed. While she is frightened of loud noises, she is quickly beginning to recognize her name again, and seems to be right at home with her adoring family.