The search for my cat's favorite toy is over! We're celebrating with a giveaway. Maybe it'll be your cat's favorite, too!
The hunt to find your cat's favorite toy can be darn near impossible. There are thousands of options and – just like cats, cat toys are all different, too. We recommend narrowing down the search by determining your cat's play style first.
But, one type of toy that almost all cats can agree on is interactive toys. These are the toys, like wand toys, that require you (the human) to get involved and interact with your cat. A lot of people think that cats are low-maintenance pets. And, while that's partially true (at least compared to some dogs and other pets), that doesn't mean they don't require interaction from their people in order to thrive.
Cats need interactive play
One of the best ways to provide the physical and mental stimulation that your kitty needs is with play! "Interactive play offers a bonus by getting the cat parent involved, increasing the cat-human bond to satisfy the cat's need for attention and affection," says Yody Blass of Companion Animal Behavior.
I am a totally sane cat lady who is not ashamed to admit I've spent a small fortune on cat toys over the years searching for the perfect one. Each of my cats has their favorite. (Walter will not stray from his beloved catnip banana!) So today, we're here to talk about Norman's absolute obsession — the Feather n' Bell teaser from Rompicatz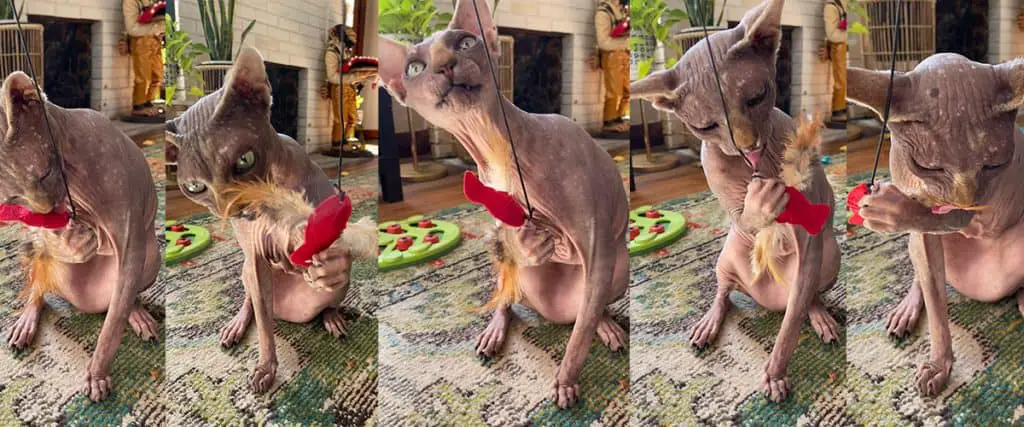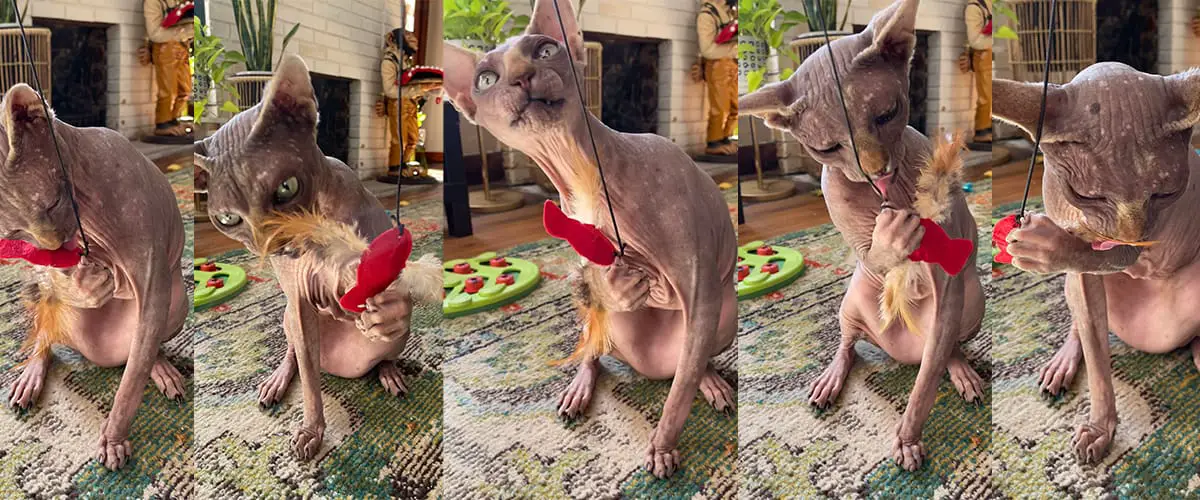 Why we love this toy
First and foremost, because Norman loves it! I've never seen him get so hyped over any other toy. Sure, he will play with others, but this is "the one." It may be the soft sound of the bell that's tucked inside the felt fish. As soon as he hears it — even if he's asleep in another room — I hear him come running. Or, it could be the strong, stretchy string that he pulls as far as it will go before he eventually lets it go and snaps it back to me so I can flick it back to him. Perhaps it's those feathers that tickle his face and excite his natural hunting instincts.
Whatever it is about this toy, it's magical. He will play for hours if I'm willing to play along. I've tried to find his stopping point, and I've yet to reach it. I always tap out first!
Also, RompiCatz (formerly Neko Flies!) is known for making toys that put quality and safety first. So I don't have to worry about parts coming off the toy or anything being a choking hazard.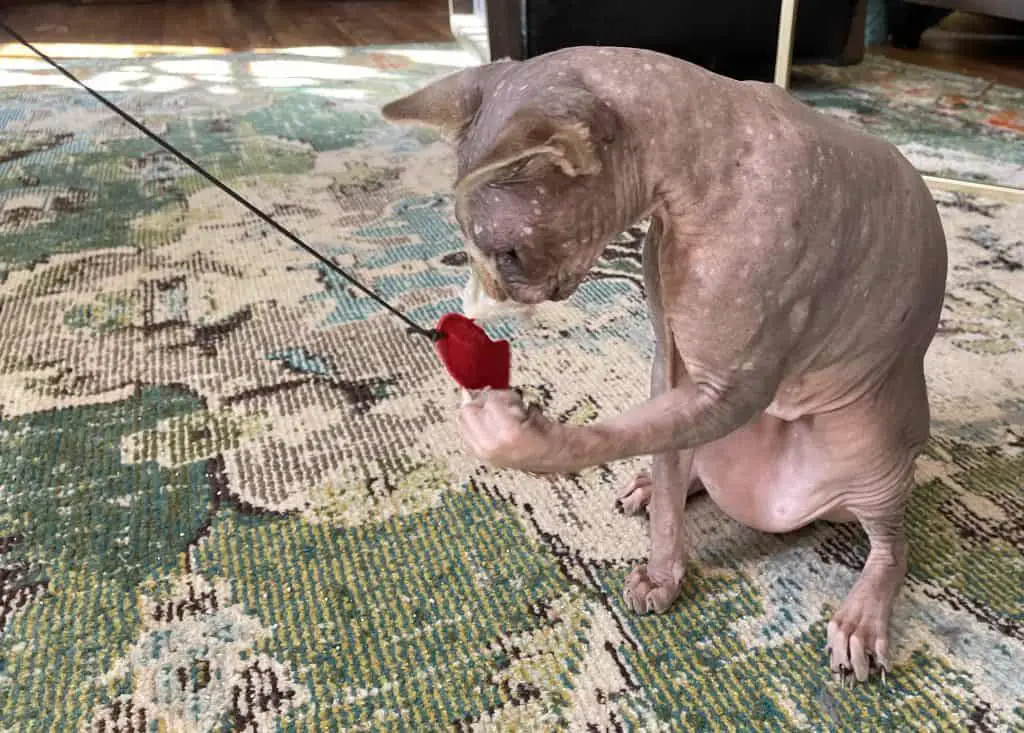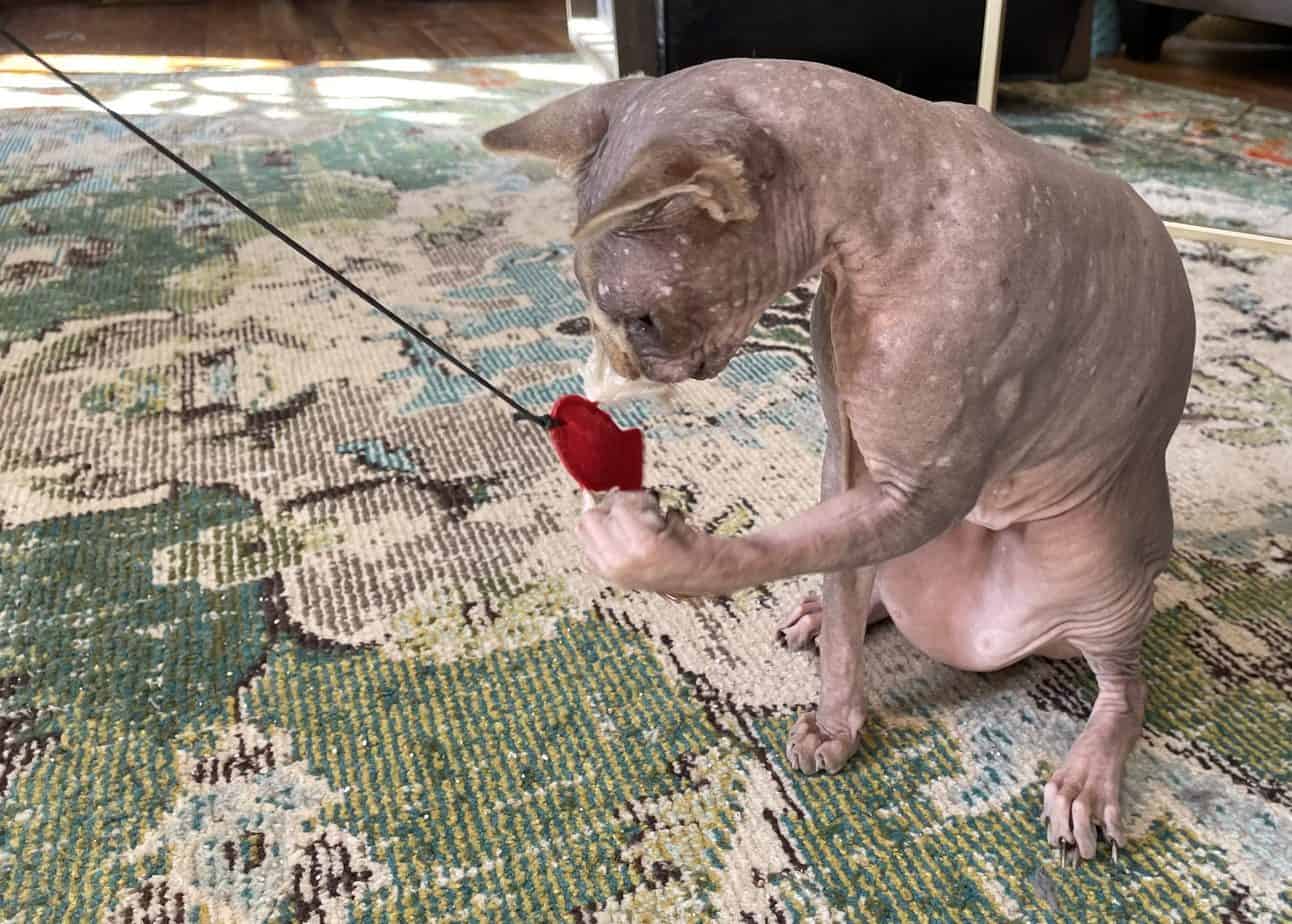 Where to get one for your cat
Ready to try the Feather n' Bell wand for your cat? You can get a pack of 3 of them on Amazon!
Not sure what toy your cat would love? If your cat loves to watch birds through the window, try getting him a teaser toy that mimics a flying bird, like the Feather N' Bell Wand. If your cat seems more interested in lizards or mice, look for teaser toys that mimic ground prey that will drive your cat bonkers — in a good way — like the Plush Tip Teaser or (my cat Olivia's favorite) the Feather N' Fabric Teaser. Not sure which toy your cat would prefer? Then enter below for a chance to win a RompiCatz prize pack of all three toys for your kitty!
Enter to win!
We're giving away a set of three RompiCatz wand toys! Norman's favorite Feather n' Bell wand toy PLUS the Plush Tip Teaser and the Feather n' Fabric Teaser! Enter below: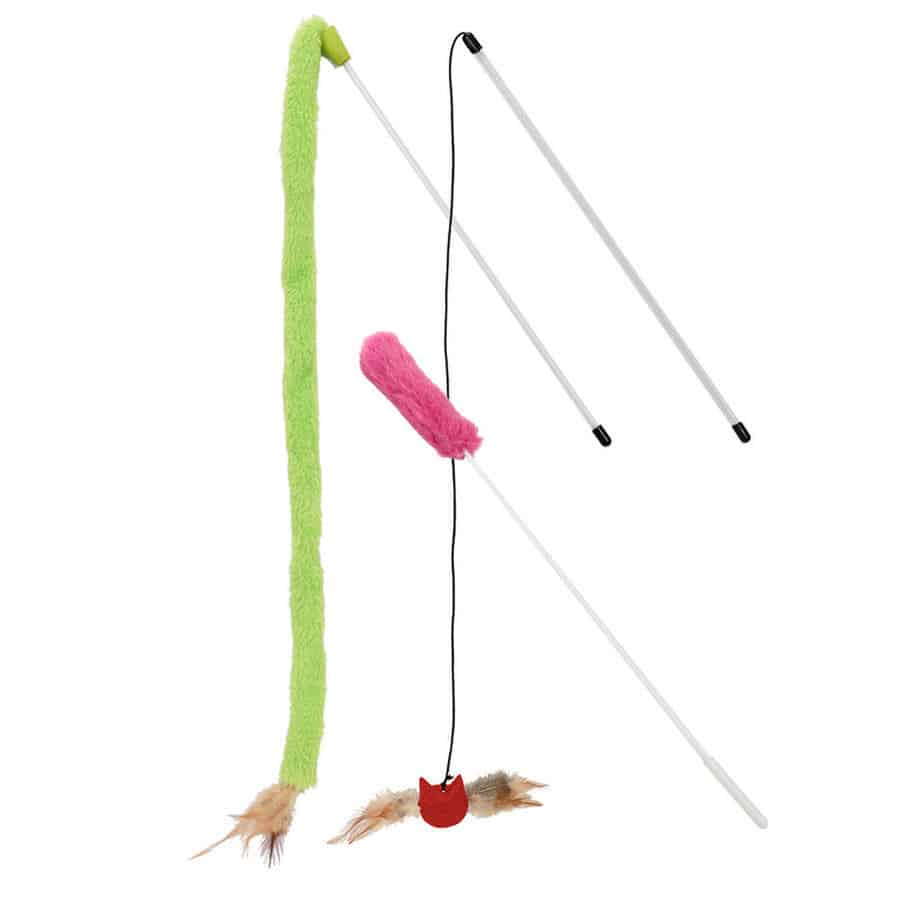 a Rafflecopter giveaway
Disclaimer: We were given some of these products in exchange for an honest review. This post contains affiliate links. If you make a purchase after clicking them, we may get a small commission. The Catington Post is dedicated to finding the best products for cats and we will never recommend a product that we don't love.