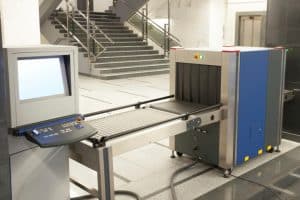 If you're someone who frequently travels with your pet, you might think this is common knowlege. Yes, we take off our shoes and jackets, empty our pockets, take laptops out of our bags, and put any liquids and gels on the conveyor belt but we never, ever put our live animals through the scanner! Apparently this does happen from time to time and, when it happened yesterday at LAX it caused quite a fiasco! The incident was first reported by Gawker after people started tweeting about it:
The amount of screaming that's happening in the Jet Blue terminal at LAX is incredible right now and yet it feels completely appropriate.

— The Sklar Brothers (@SklarBrothers) July 1, 2015
Standing in front of guy at TSA. I hand him a bin. I turn away and go through the scanner. I hear screams. HE PUT HIS CAT IN THE BIN.

— Sara Benincasa (@SaraJBenincasa) July 1, 2015
Okay, so apparently this happens more often than we thought. It happened at the same airport the day before!
I have now seen everything. A woman trying to put a live cat, no cage, through the xray thing at LAX security. Officers suddenly screaming! — The Obvious Hiker (@ObviousHiker) June 30, 2015
Since the security procedure for flying with a cat isn't as clear as we thought it was, here is the procedure: When you get to the security checkpoint, let TSA officers know you have a live animal. You'll have to walk your cat through the metal detector with you. If you can't do that, because your cat might run off or some other reason, the pet will have to undergo a special screening (much like you would have to do if you couldn't go through the metal detector yourself). Your cat will NEVER be placed through an X-ray machine! However, you will be asked to remove your cat from its carrier so that the carrier can be placed on the X-Ray machine and scanned along with your other belongings.