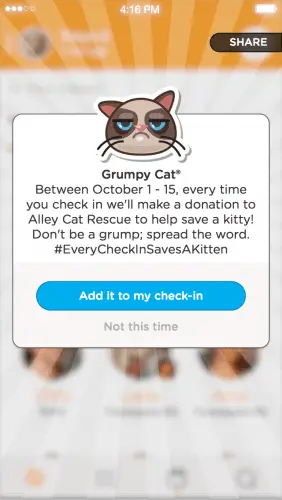 Over 55 million people use the social media apps Foursquare and Swarm to check-in and share their locations with friends. If you're one of them, now's your chance to save kittens while you do it!
This month, Foursquare is teaming up with Alley Cat Rescue to save abandoned and stray cats. From now until October 15th, they'll make a donation to Alley Cat Rescue for every check-in on Swarm across the globe. How cool is that?
To help save as many kittens as possible, they've partnered with everyone's favorite forlorn feline, Grumpy Cat! Unlock the limited edition Grumpy Cat sticker, show your support, and spread the word by sharing your check-ins to Twitter or Facebook using the hashtag #EveryCheckInSavesAKitten.
So start checking in everywhere and PAW IT FORWARD!