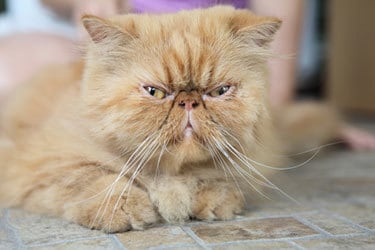 Many of us don't think of Iran as having a thriving space program, but officials announced their plans to send a Persian cat into space by the end of their calendar year, which ends in March.
After reportedly successfully sending a monkey, mice, worms and turtles in to space, Iran has a goal of sending a human outside of earth's atmosphere by 2018. Apparently, sending a Persian cat will somehow get them to that goal?
The long-haired, flat faced felines are named after Persia, the region that is now known as Iran. Skeptics believe Iran's choice of sending a Persian into space has no scientific grounds but is, rather, a publicity stunt and propaganda for the Middle Eastern country.
From Al Arabiya:
Meanwhile, the choice of a Persian cat seemingly has no scientific grounds, particularly as the breed is known to be susceptible to breathing difficulties. The choice could however be a tactical ploy, used as a display of nationalism…
In a statement from animal rights group, People for the Ethical Treatment of Animals (PETA), sending a Persian cat into space has been labeled "primitive" -an archaic experiment, like those carried on in the 1950's by the United States, China and Russia.
Dr. Alireza Nourizadeh, the director of the Center for Arab & Iranian Studies in London said says the experiment won't provide any new information and speculated that:
"the Iranian regime wants to launch some of their long-range missiles, under the guise of sending a cat into space."
Iran, on the other hand, says they want to have their own satellites in orbit to monitor natural disasters, improve telecommunications, and expand their military surveillance.
What are your thoughts about Iran sending a Persian cat into space?