A tiny kitten made a big splash during a Major League Baseball game after running onto the field on Wednesday night. It was the bottom of the sixth inning of a game between the St. Louis Cardinals and the Kansas City Royals, when the pint-sized puss caused a stir. Watch this clip and see what happened:
Here's our little hero, the Rally Cat (although the grounds crew guy might say differently). #STLCards pic.twitter.com/OrR2IFAv8d

— FOX Sports Midwest (@FSMidwest) August 10, 2017
What you don't see in the clip, is that immediately after the kitten was (not so graciously) removed from the field by a grounds crew member, the Cardinals hit a grand slam. Now the little kit is being hailed a hero!
But, here's where the story starts to get weird…
It was initially reported that the Cardinals took the cat to the Humane Society, where it would be safe — but on Thursday morning, the HS denied they had "Rally Cat," after people kept calling to try and adopt the kitten:
**HSMO does NOT have #RallyCat from last night's game but we DO have tons of other wonderful kitties needing homes! https://t.co/GnMLiiUQJw

— Humane Society of MO (@hsmo) August 10, 2017
Then, the Cardinals released a statement explaining what actually happened: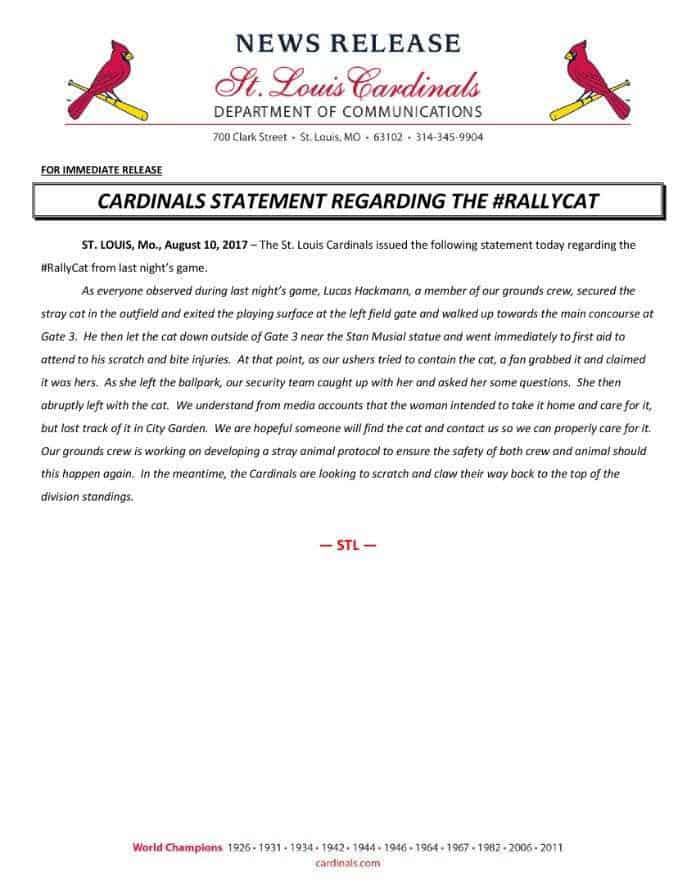 Okay, so the cat was stolen? But, the story doesn't stop there. This morning, the St. Louis Feral Cat Outreach posted a photo of a kitten that was trapped at the City Garden overnight. They said they are working to determine if the kitten is the infamous Rally Cat:
Sure looks like the same kitten, doesn't it? Here's hoping! But if not, it's a kitten saved and that's a great thing!
This was a weird turn of events, but cats actually have a long history of interrupting sporting events! Click here to read about some of them!