A six-year-old Tonkinese cat burglar named Brigit is a natural hunter. Only her prey is men's underwear and socks – and she's stolen more than 60 of them!
Brigit's owner, Sarah Nathan of Hamilton East in New Zealand, has chronicled her kitty's thievery on Facebook: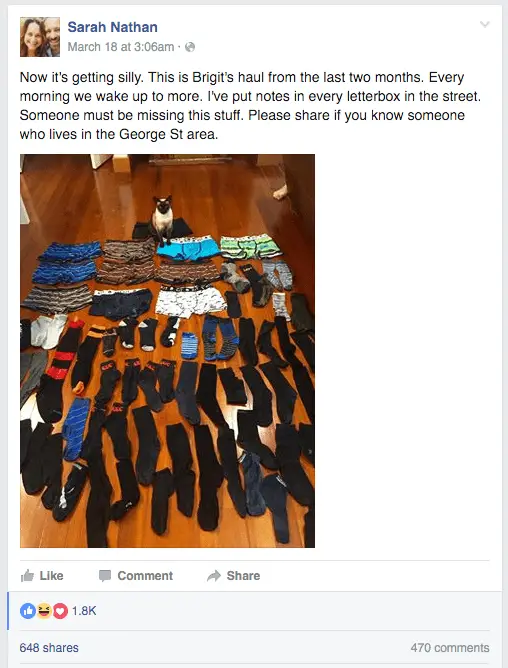 It's all men's. It's really, really weird. In our last house she'd bring home a bit of everything – she'd bring home men's undies, women's undies, togs, she even brought home a hockey shin pad and a jumper.

It's an absolute obsession. A night does not go by without her bringing things home. I got up this morning and there were another four socks in the house.
Sarah reported that she finds Brigit's stolen booty all over the place – in the bed, by the cat flap, even stuck in the fence outside. She's distributed flyers on her street and posted about it on Facebook, hoping to reunite the socks and underwear to their rightful owner.
This isn't the only time we've heard about cats stealing from the neighbors. Remember the "cat burglar" in Oregon who stole for his police sergeant owner?