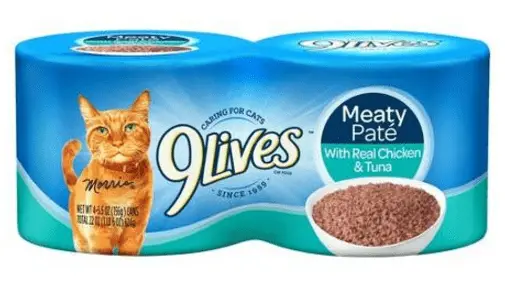 The J.M. Smucker Company today announced a limited voluntary recall on certain lots of 9LivesTM, EverPetTM, and Special KittyTM canned cat food due to possible low levels of thiamine (Vitamin B1).
The issue was discovered by the Quality Assurance team during review of production records at the manufacturing facility. No illnesses related to this issue have been reported to date and the product is being recalled out of an abundance of caution.
Cats fed diets low in thiamine for several weeks may be at risk for developing a thiamine deficiency. Thiamine is essential for cats. Symptoms of deficiency displayed by an affected cat can be gastrointestinal or neurological in nature. Early signs of thiamine deficiency may include decreased appetite, salivation, vomiting, and weight loss. In advanced cases, neurological signs can develop, which include ventroflexion (bending towards the floor) of the neck, wobbly walking, circling, falling, and seizures. Contact your veterinarian immediately if your cat is displaying any of these symptoms. If treated promptly, thiamine deficiency is typically reversible.
The affected product was distributed to a limited number of retail customers from December 20 through January 3, 2017.
Consumers who have cans of cat food from the impacted lots should stop feeding it to their cats and call 1-800-828-9980 Monday through Friday 9:00 AM – 6:00 PM EST or contact us at consumer.relations@jmsmucker.com. 
The affected production includes the following:
Brand
Product Description
UPC Code Consumer Unit
Lot Numbers
Units per Case
Selling Unit Size
UPC Code on Case
9Lives
Meaty Pate Chicken and Tuna
7910052238
6354803
12
13 oz
7910052228
9Lives
Meaty Pate Seafood Platter
7910000402
6356803
24
5.5 oz
7910000402
9Lives
Meaty Pate Seafood Platter
7910000367
6355803
6
4pk
5.5 oz each
7910003670
9Lives
Meaty Pate Super Supper
7910000327
6358803
24
5.5 oz
7910000327
9Lives
Meaty Pate Super Supper
7910000286
6358803
6
4pk
5.5 oz each
7910002860
9Lives
Meaty Pate Super Supper
7910052239
6355803
12
13 oz
7910052229
9Lives
Meaty Pate Super Supper
7910052239
6364803
12
13 oz
7910052229
9Lives
Meaty Pate with Chicken and Seafood
7910000364 (793641)
6356803
6
4pk
5.5 oz each
7910003640
9Lives
Meaty Pate with Chicken and Tuna
7910000324
6356803
24
5.5 oz
7910000324
9Lives
Meaty Pate with Chicken Dinner
7910000410
6356803
24
5.5 oz
7910000410
9Lives
Meaty Pate with Liver and Chicken
7910000312 (793121)
6355803
6
4pk
5.5 oz each
7910000312
9Lives
Meaty Pate with Ocean Whitefish
7910000420
6358803
24
5.5 oz
7910000420
9Lives
Seafood Poultry Variety Pack
7910053377
6307803
24
5.5 oz
7910053377
9Lives
Meaty Pate with Chicken & Tuna
7910000366
6357803
6
4pk
5.5 oz each
7910003660
EverPet
Mixed Grill Dinner
7910053114
6356803
12
13 oz
7910053114
Special Kitty
Beef and Liver Dinner
8113112120
6355803
12
13 oz
8113112120
Special Kitty
Classic Tuna Dinner
8113112157
6358803
12
13 oz
8113112157
Special Kitty
Mixed Grill Dinner with printed wrap
8113109609
6355803
1
12 pk
13 oz each
8113109609
Special Kitty
Mixed Grill Dinner without printed wrap
8113112119
6356803
12
13 oz
8113112119
Special Kitty
Super Supper
8113179041
6355803
12
13 oz
7910079041