Are you the type to get up at the crack of dawn and shop on Black Friday or do you prefer to shop from the convenience and comfort of your cat-themed pajamas? Things will be a bit different this year – some stores are extending their Black Friday deals to month-long events and most shopping can be done early online. In fact, many stores that have been open on Thanksgiving Day in years past have decided to stay closed on the holiday for 2021.
Either way, there's no denying that the holiday shopping season is well underway. And those of us who share our homes with cats are sure to include them in our shopping plans! I try to stock up on cat litter for the entire year on Black Friday because the deals are so good!
With so many stores having huge sales, it can be difficult to plan and navigate your way around to find the absolute best deals. So, to help you (and your cat) out, we've compiled a list of all the best Black Friday deals for cats for 2021! Happy shopping!
We will update this list as new deals are announced, so keep checking back!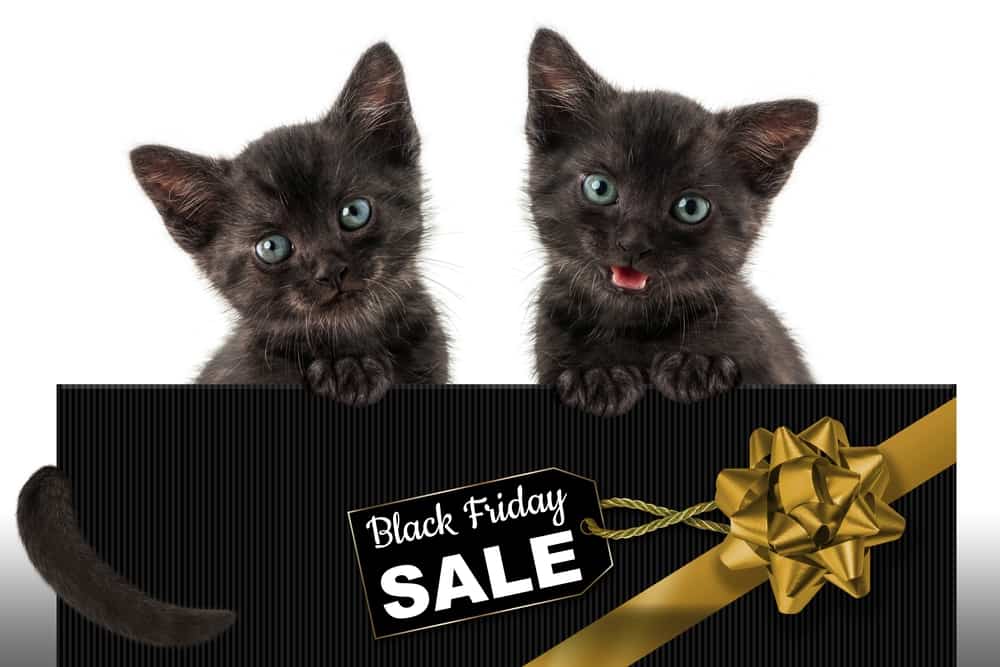 Chewy
Online 11/26
• Chewy.com has thousands of PAWsome deals for cats on Black Friday!
PetSmart
Online 11/25-11/26, In stores 11/26
2 for $25 Arm & Hammer cat litter 28lb & 40lb boxes
50% Off holiday cat beds, toys, and accessories
BOGO 50% Off entire stock of cat bowls
$64.99 Whisker City 70″ cat tower + 40% Off select Whisker City cat towers
Pet Supplies Plus
Regular store hours. Deals 11/22 – 11/28
50% Off Play On holiday cat toys and scratchers
50% Off Play On holiday cat apparel and accessories
30% Off Select freeze-dried cat food
Buy 4 Get 2 Free select wet cat food
2/$22 Play On cat litter 35lb pails
Bogo Free select cat treats and toppers
$10 Off select large bags of cat food
BOGO Free select small bags of cat food
40% Off select cat toys, catnip, and furniture
Amazon
Amazon's Early Black Friday deals for pets are up now, and other items will be on sale from now until Black Friday. Since Amazon is an online store, new sales will go live 24 hours per day so be sure to check often!
Farm & Home Supply Center
11/22 – 11/29, Closed on Thanksgiving
Up to $5 Off premium cat food (brands include Whole Earth Farms, Taste of the Wild, Wildology, Fromm, Nutro, Natural Balance, Canidae, and others)
30% off all toys
25% off all treats
Tractor Supply Company
Online and in stores 11/26, Closed Thanksgiving
Get a $15 Tractor Supply Gift Card with Every Bag of Science Diet 15lb bag of Cat Food
35lb pails of Paws & Claws cat litter for $10.99
BOGO 50% Off Cat Toys
BOGO 50% Off Temptations Cat Treats
Target
Online and in stores 11/26, Closed Thanksgiving
Bissell CleanView Allergen Pet vacuum $145.99
10% Off Kindfull cat food and treats
15% Off select cat treats
Walmart
Online and in stores 11/26, Closed Thanksgiving
Hoover SmartWash PET Carpet Cleaner $149
Petco
Online and in stores 11/21-11/26
50% Off cat furniture and beds
up to 50% off cat toys
up to 50% off cat food and treats
BOGO Free Merry Makings brand toys and treats
50% Off Merry Makings holiday clothing & beds