Unless you're the proud parent to a rare hairless breed, you've dealt with cat hair at least a time or two. As much as we love our fuzzy little bundles of joy, cat owners can all agree, the one thing we don't love is their hair and scattered litter — EVERYWHERE!
With that in mind, we've scoured the market to bring you the Best Pet Hair Vacuums for Dealing With Cat Hair and Litter.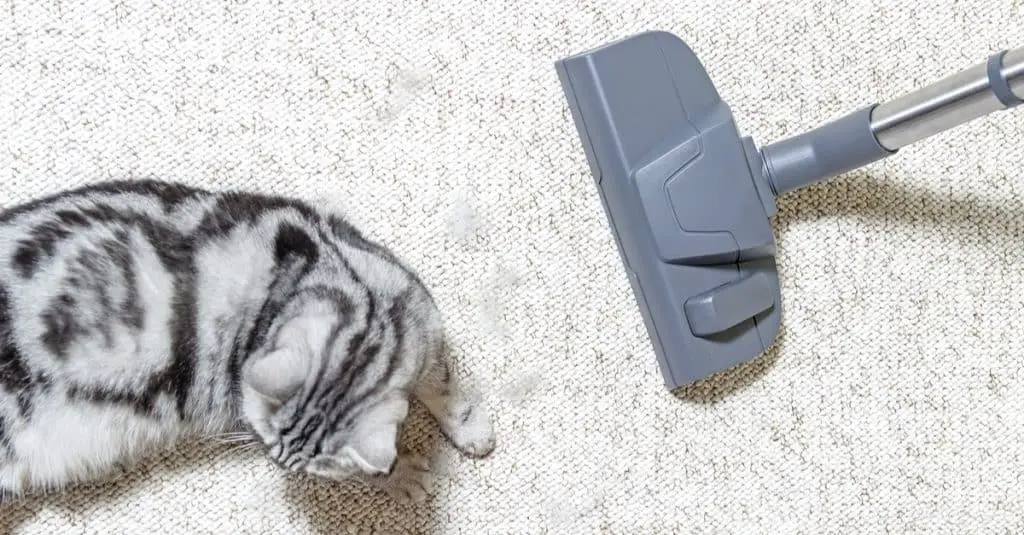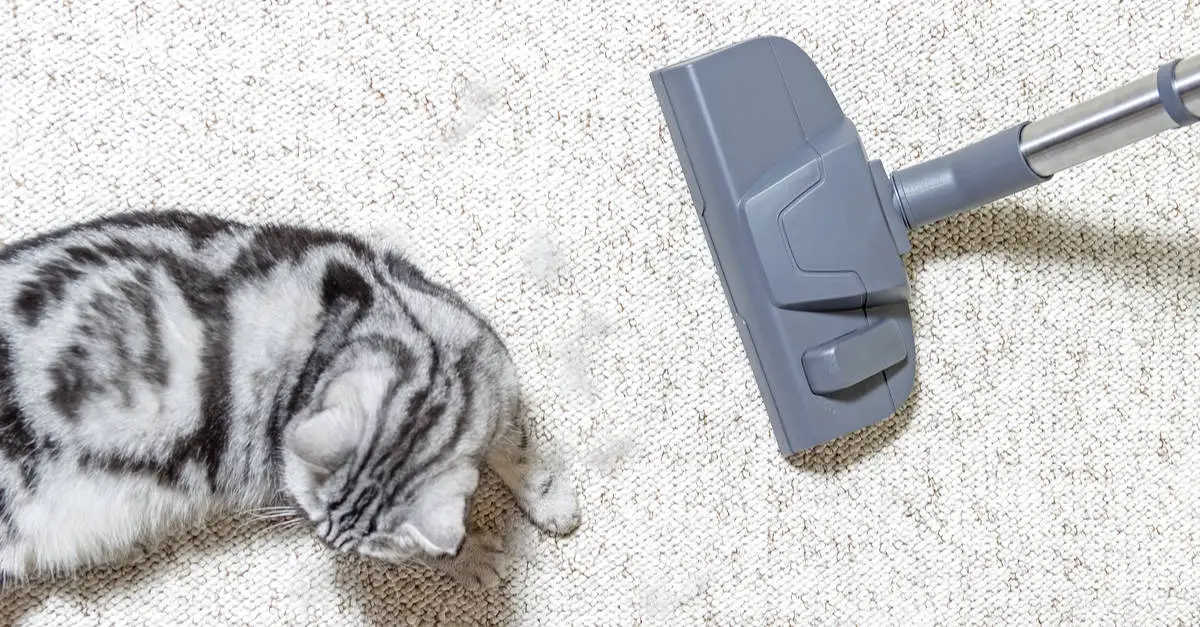 Finding a decent vacuum can be a challenge, especially when you've got pets. Besides cleaning up dirt, dust, and dander, your vacuum has the added duty of keeping pet hair and cat litter under control, too. And, with hundreds of different vacuums, with dozens of different features, across every budget, how do you choose?
Factors we considered in choosing the Best Pet Hair Vacuums:
Power & Durability: When it comes to dealing with pet hair, powerful suction is a must. Cat hair tends to become embedded in fibers of carpeting and upholstery, making it a challenge for weaker vacuums. And, because pet parents put their vacuums to the test, our top picks are proven to be durable – and offer a warranty if anything goes wrong.
Versatility: A vacuum can be a big investment, so finding one that's tough enough to tackle pet hair while being versatile enough for every room in the house (and the car, too!) is important. Our best pet vacuum picks are versatile enough to use on plush carpeting, wood or tile floors, stairs, and upholstery.
Designed Especially for Pets: Vacuum cleaners that are designed with pet hair and pet messes in mind include added features and functions especially for battling hair, dander, dirt, litter and other messes made by pets. Tangle-free rollers and brushes, pet hair attachments, allergen filters, easy steering, and other pet-centric features make our top picks perfect for those of us with furry family members.
Ease of Use: Let's face it, chores aren't fun. But, they don't have to be difficult, too. Your vacuum should be easy to use, easy to steer, and easy to clean. We took ease of use into serious consideration when making our selections for the best pet hair vacuums.
And the top picks are…
BEST OVERALL Pet Hair Vacuum:
Pros: Eureka's FloorRover Upright Vacuum is touted as the brand's most powerful vacuum yet, with continuous, powerful suction designed especially for picking up pet hair. Swivel steering and big, rugged wheels make it as easy to push this vacuum across the plushest of carpets as the smoothest of hardwoods. A multi-stage cyclone system separates large and small particles (we're looking at you, cat litter!) so that the machine never loses suction. And, on-board tools include a 2-in-1 upholstery tool, a pet turbo brush, and a crevice tool for cleaning pet hair from all those "how did cat hair even get here?" surfaces. An extra-long 30-foot cord means you can clean several rooms in one pass.
Cons: The large wheels, while making the vacuum incredibly easy to push around on all flooring surfaces, can make it difficult to fit underneath beds or low furniture. But, hose attachments offer a great alternative.
"We have two large dogs, a very large fuzzy cat, and two kids. This vacuum works fantastic for all our needs. We have carpet and vinyl in our home and use it on both. I was particularly impressed with one rug- we have an indoor outdoor rug that sits under our kennel in the kitchen to protect the floor from scooting. Well, our old vacuum left loads of hair in it (german shepherd) no matter how many times it was used. One pass with this vacuum and hair that was deeply embedded into the nap of the carpet was gone. It's also light, extremely maneuverable, and easy to empty." -Tina T.
Click here to shop for your Eureka FloorRover Upright Vacuum
BEST ON-A-BUDGET Pet Hair Vacuum
Dirt Devil Razor Pet Bagless Upright
Pros: For pet parents on a budget that want a powerful vacuum that really works without the premium price tag. The Dirt Devil Razor Pet upright swivel vacuum cleaner is powerful, lightweight, and easy-to-use – all for under $100. The low profile design steers around and under furniture with minimal effort while the premium pet brush roll is designed to effectively clean and remove pet hair on both carpet and hard floors. Simply detach the 10ft. cleaning wand and attach the Pet Tool to clean hard-to-reach places like ceilings and stairs. No loss of suction means a powerful clean anywhere in your home. Plus, the advanced three-stage filtration system keeps your vacuum running better, longer with a whole lot less maintenance.
Cons: Some users have experienced pet hair becoming tangled around the roller brush. This is typical of most vacuum cleaners and simply requires regular maintenance and cleaning of the roller brush.
"At last a vacuum cleaner that does just what they say it will ! This little gem picked up so much animal hair it was shocking. With a furry dog and three cats I needed help. I had bought 2 other expensive vacuums that did not pick up animal hair. This vac is very easy to push around …I love the swivel feature. The canister holds a good bit of dirt/hair and is easy to empty. There's not a single thing that I don't like about this product. The price was excellent. If you have animal hair on your carpet you NEED this Dirt Devil !" -B.R.
Click here to shop for your Dirt Devil Razor Pet Upright Vacuum
BEST PREMIUM Pet Hair Vacuum
Pros: Dyson didn't earn their reputation as one of the very best vacuum cleaners on the market without merit. The Dyson Ball Animal 2 Total Clean vacuum has the strongest suction of any upright vacuum on the market and includes tons extra tools for a total cleaning solution for pet parents. The Animal 2 has an advanced self-adjusting cleaner head that automatically adjusts between carpets and hard floors – sealing in suction across all floors to tackle your toughest tasks—and make picking up pet hair and pieces of litter a breeze. Its wand and hose release in one smooth action to make it easier to clean up high and under furniture. With hygienic bin emptying, there's no need to get your hands dirty – just push the button to release the dirt. Whole-machine HEPA filtration ensures that allergens and bacteria are trapped inside the machine, not expelled back into the home. The Dyson Ball animal 2 comes with six extra tools and a tool bag for removing fine dirt and dust from hard to reach places. And Dyson's warranty covers the product for 5 full years – though you probably won't need it.
Cons: The hefty price tag. This vacuum cleaner is a premium product and comes with a premium price tag. But, if you're like most pet parents—especially multi-pet homes or homes with long-haired animals—and find yourself replacing your vacuum every couple of years, this Dyson will pay for itself several times over.
"Absolutely AMAZING!! I have 4 cats, 2 long furs.. I vacuum twice a day. It used to take me 20 minutes to vacuum my couch. With the Dyson?!! 5 minutes easy!! It can reach my light 10 feet away on the third floor with the attachments, cleans my stairs to perfection! I would pay any amount for a vacuum this efficient!!" -A.C.
Click here to shop for your Dyson Animal 2 Upright
NOTABLE MENTIONS:
Because there are as many varieties and styles of vacuums as there are of cats, no single vacuum will be perfect for every situation. With that in mind, we couldn't ignore these specialty pet hair vacuums!
Best Easy-Peasy Stick Vac for Pet Hair: Shark Navigator Freestyle Cordless Stick Vacuum
The Navigator Freestyle Premium Cordless Vacuum provides a quick, convenient clean-up on all types of surfaces, from one room to another. It not only offers superior cleaning on both bare floor and carpet, but it has strong suction power and an extended run time. With swivel steering for maneuvering around furniture, the Navigator has a powerful motorized brush that lifts embedded pet hair and kicked out cat litter from carpets or hard floors, making it ideal for pet owners. The extra-large dust cup holds more dirt and debris so you can empty it less frequently.
Best Wet/Dry Vacuum for Pet Parents: Bissell Crosswave Pet Pro All-In-One Vacuum Cleaner and Mop
The Bissell Crosswave Pet Pro is a revolutionary, all-in-one, multi-Surface cleaning system that vacuums and washes floors at the same time. With a pet brush roll rotating at 3,000 RPM and an innovative multi-surface pet cleaning solution, the Crosswave Pet Pro cleans better than a sponge mop and bucket, in less time. It includes a pet hair strainer for easy cleanup and specialized pet cleaning solution to eliminate pet odors. Plus, with the touch of a button, you can seamlessly switch from cleaning hard floors to vacuuming and washing your area rugs, all with one machine. We don't recommend using this to clean up cat litter, though. While it did a great job of it, clumped wet litter was difficult to clean out of the dirty water tank.
Best Handheld Pet Hair Vacuum for Quick & Easy Cleanup: Bissell Pet Hair Eraser Cordless Handheld
Remove more embedded dirt and pet hair with a motorized brush tool and 14V lithium ion battery.
The pet hair eraser handheld cordless vacuum features triple level filtration and a large, easy-to-empty dirt bin to help get rid of pet hair easily. Included specialized pet tools include a motorized brush tool, upholstery tool, and crevice tool. Perfect for cleaning stairs, upholstery, car seats and more.
Best Canister Vacuum for Picking Up Pet Hair: Bissell Pet Hair Eraser Bagless Canister Vacuum
Bottom line: This thing is a BEAST. The Bissell Pet Hair Eraser Bagless Canister Vacuum with automatic floor type recognition removes even the toughest dirt and hair on all floor types. Thanks to SmartClean Technology, the motorized floor nozzle automatically detects the floor type and adjusts the suction for optimal performance. The motorized Tangle-Free Brush Roll efficiently picks up hair and embedded dirt while preventing hair wrap. The Patented Multi-Cyclonic Spooling System provides powerful suction and features a Hygienic Emptying System to effortlessly release the dirt from the tank without reaching inside, keeping your hands clean. The motorized floor nozzle features LED's to easily see debris under furniture or other hard-to-reach places. The ergonomic, two-position handle allows for maximum maneuverability when cleaning floors, under furniture or above floor surfaces. The motorized nozzle can easily be attached to the handle for convenient cleaning of hair and embedded debris from stairs and other surfaces. Together, these features combine to create Bissell's Advanced Hair Management System that removes embedded hair and debris without requiring frequent cleaning of the vacuum.
Found this review helpful? Pin it!