This is the time of year that many pet parents are taking trips! Whether you're visiting family for the holidays or taking a much-needed vacation, have you considered taking your cat with you? If your trip will be an extended one, it might make sense to bring your feline friend along, rather than having her spend the holidays at home alone or boarding for days on end.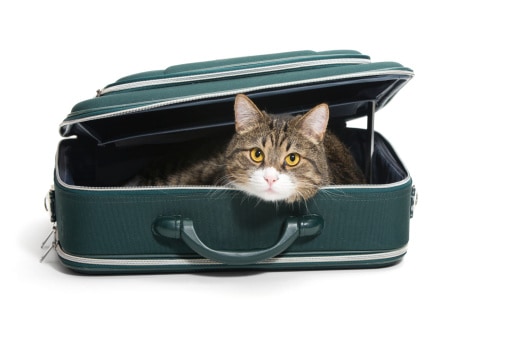 If you decide you want to take your kitty with you this year, check out these top tips for traveling with your cat:
Tips For Traveling by Car: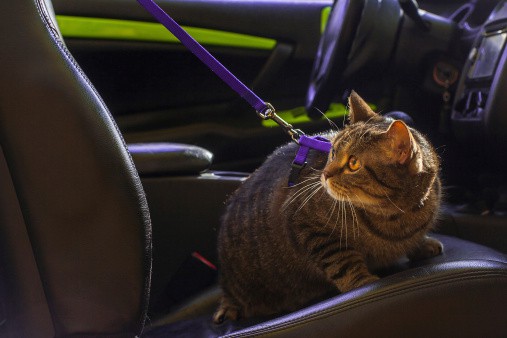 Preparation
To get your cat used to riding in the car, start by taking short drives around the block and gradually increase the time you spend in the car until your cat is comfortable going for rides. It may help relieve stress to give your cat Rescue Remedy or Feliway spray, two natural remedies for keeping kitties calm.
Carrier
Always keep your cat in a carrier when the car is moving! The carrier you choose should be big enough for your kitty to sit, stand, turn around, and lie down. Spend time introducing your cat to the carrier before your trip so he or she is used to it and comfortable before the big day. SleepyPod makes wonderful carriers for car travel, and they are one of the only pet carriers on the market that have been crash-tested for safety!
Food
Many kitties will get carsick if they have a full belly, so feed your cat 3-4 hours before you get in the car and then take any remaining food away to avoid an upset stomach.
Water
Give your cat plenty of water to drink. Bring a portable water dish in the car with you and offer it to your cat when you stop for breaks along the way. It's a good idea to bring a large supply of your own water from home whenever you travel, as the water supply from unfamiliar places could upset your cat's stomach.
Safety
Never, ever leave your cat alone in a parked car! This is especially important in warm weather, as pets can quickly develop heat stroke and die in a matter of minutes in a car. But, they're also not safe in cold weather or safe from theft.
Luggage
When you're packing your bags, be sure the pack a separate bag just for your cat. Include everything your cat needs to feel at home – food and water bowls, any medications, litter and a scoop, toys, treats, and even your vet records, just in case you should need them. It's a good idea to bring your cat's favorite blanket or bed to give him a sense of home.
Tips for Traveling by Plane: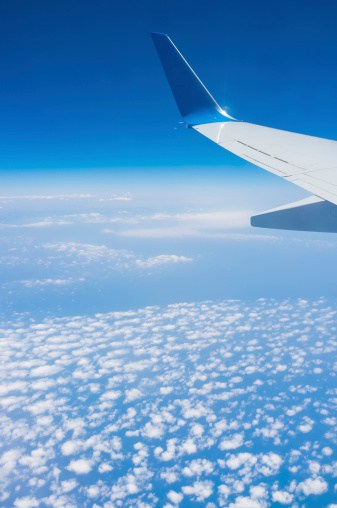 Checkup
Have your cat seen by the veterinarian before you travel to make sure he or she is ready to fly. Some airlines require a health certificate from the vet, so check with the airline when you book your flight. You may also need to show proof that your kitty is current on vaccinations.
Booking
Minimize stress on your kitty by booking direct flights whenever possible. Though some airlines will allow pets to travel in the cargo hold of the plane, you should always travel with your cat in the cabin – it's much, much safer! In fact, we do not recommend having your cat fly in the cargo hold of the airplane.
Carrier
In order for your cat to travel in the cabin of the plane with you, you'll need to be able to fit her carrier under the seat in front of you. The SturdiBag pet carrier is perfect for this use. Or, search for other airline-approved, soft-sided carriers.
Tips for Once You've Arrived at Your Destination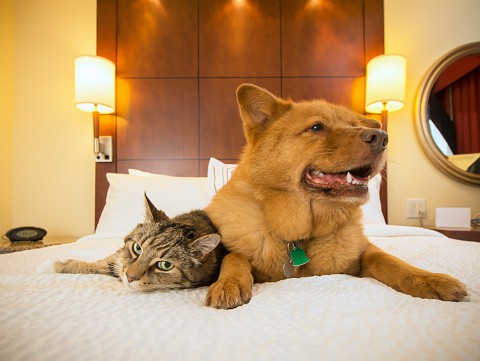 Hotels
If you're staying in a hotel, it's a good idea to use the "Do Not Disturb" sign when you're away. You don't want housekeeping to enter the room and accidentally let your cat escape! Also, if your cat will use them, disposable litter boxes make packing and cleaning up a breeze. It's also wise to keep your cat in a large crate or closed in the bathroom if you need to leave him alone in the room.
Staying with Guests
If you and your cat are staying with family or friends, confine your cat to a single room – at least until you're sure he or she is comfortable in his new surroundings. Be sure that your hosts are not in the habit of leaving doors and windows open and that there is no way your kitty will be able to escape. If your hosts have pets of their own, keep your cat separated from them until you've had time to make proper, slow introductions.
Important!
Always keep identification on your cat when you're traveling. If your cat has a microchip, great! If not, make sure he or she is wearing a collar with an identification tag that is printed with your current contact information. Since you'll be traveling, the tag should include your mobile phone number. It's also a good idea to include any special needs your cat may have. For example, if your cat needs daily medication have that printed on his tag, too. That information may encourage someone to call you or take your cat to a vet should he become lost.
By taking a few precautions and following these tips, perhaps your cat can enjoy taking a vacation with you! If you've traveled with your cat, what other travel tips would you add? Comment below. And, if you found this guide helpful, please pin it!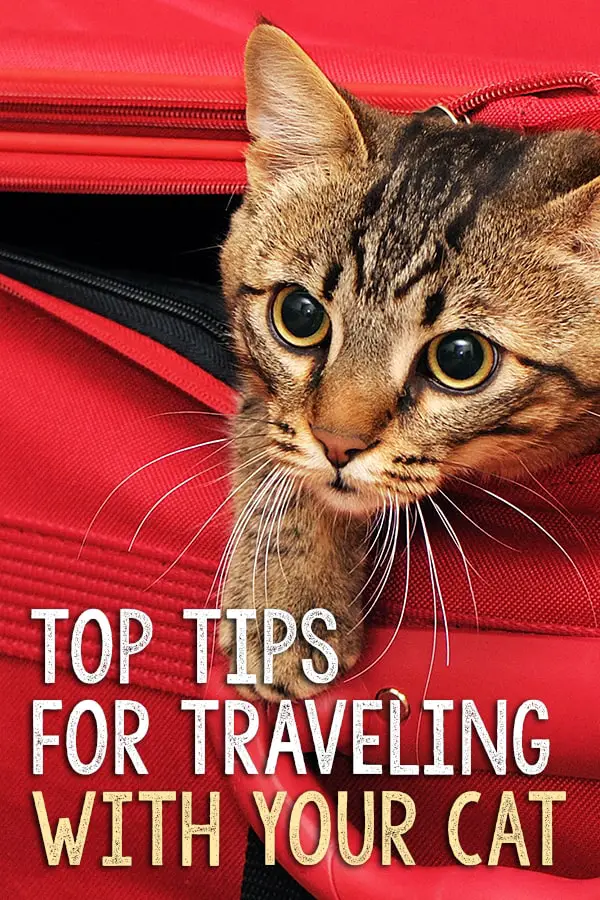 The Catington Post is reader-supported. That means, if you make a purchase through links on our site, we may earn an affiliate commission. All images and names which are not the property of The Catington Post are the property of their respective owners.