It must be a sign of the times. Gone are the days of tossing a kitty a catnip toy and calling it a day – today's tech-savvy felines demand more! Technology has finally made it's way into one shelter in Saskatchewan, Canada. Last month, the Regina Humane Society launched the "iPads for Cats" program to help bring a more playful atmosphere to the shelter environment while the kitties wait for their fur-ever homes.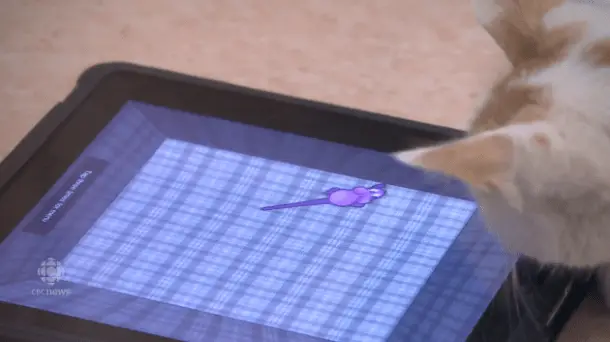 Spokesman Bill Thorn explained to PEOPLE:
"The program is geared towards our younger volunteers, as young as 12 years of age, and represents a nice merger of technology with cat enrichment. It is just one tool we have to help make the stay at the shelter more enjoyable and less stressful for the cats."
There are several iPad apps specifically designed for cats. There are programs that have fish, insects or mice that move, make sounds, and disappear while the cat tries to play with it and capture its prey. There are even apps that let your little Purr-casso paint a picture with his paws. If you've got an iPad or tablet at home, there's a good chance you've downloaded one of them and let your cat play with it! The shelter is simply bringing that technology to their adoptable kitties as another way to keep cats active and stimulate them mentally.