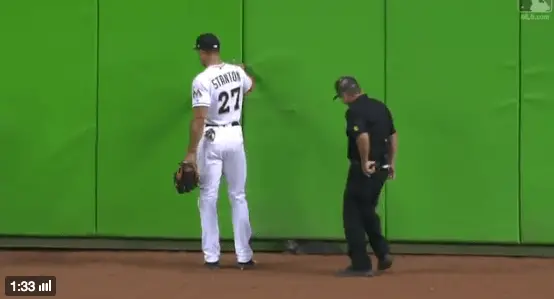 See how one gray cat decided to celebrate National Pet Day – which also happened to be on the same day as the Miami home opener. He snuck his way onto the field and decided to climb up onto the Marlins Park Home Run sculpture during the sixth inning of Tuesday's game against the Braves causing a brief delay.
Here's a video posted to the Marlin's twitter page:
A cat intrusion on #NationalPetDay? How purrr-fect. 🐱

🎥: https://t.co/njxsxShFnD#LetsPlay pic.twitter.com/oawbDp48OU

— Miami Marlins (@Marlins) April 12, 2017
For the sake of the cat's safety, Marlins management decided not to activate the sculpture for the remainder of the game, which is usually triggered every time a Marlins player hits a home run.
As of now, we don't have any news of what's become of the cat, other than he appeared to be fine on the statue. Hopefully, the cat will be caught and adopted!
Think it's rare that a cat would show up in the middle of a game? Not so much… cats have a long history of interrupting sporting events. Click here to read about some of them!