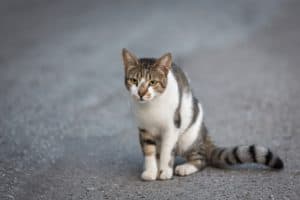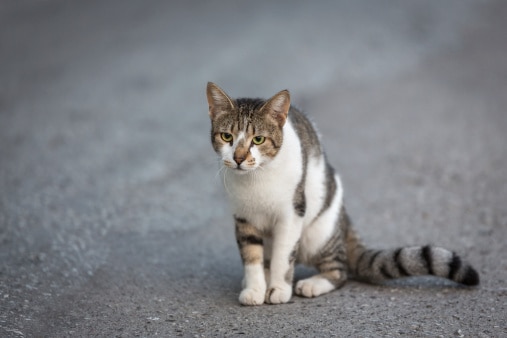 "Community Cats" are the cats that live outside – cats who have been abandoned, ferals, and strays. They are homeless, but often have caretakers that feed and shelter them and provide water and medical care. The Community Cat Movement began as a way to educate, gain participation, and develop programs to care for these cats.
We asked Beth Frank, the President of Community Cats United to tell more:
The Community Cat Movement began to formulate as I was reading the book by Anne Beall called Community Cats: A Journey Into The World Of Feral Cats and I was shocked to learn that only 5% of the US population knows about the option for trap-neuter-vaccinate-return (TNR or TNVR).  This new knowledge ignited immediate action in me because I realized this has to change.
Upon much thinking I began to make a list to keep these important thoughts.  So began my itemization which included such things as:
1.  Bringing TNRV mainstream
2.  Convincing more veterinarians to participate
3.  Encouraging more people to trap these cats
4.  Locating people willing to transport cats to and from vets and clinics
5.  Identifying people willing to be colony caretakers
6.  Contacting every rescue group that we can find
7.  Locating people willing to foster cats and kittens
8.  Volunteers for many aspects of feeding, pre-op, post-op, etc.
9.  Developing many more Working Cat and Barn Cat programs
10. Shelter reformations to include TNVR as a no kill option
11. Contact with local governments to address negative ordinances and laws 
12. Community cat food banks that would help caretakers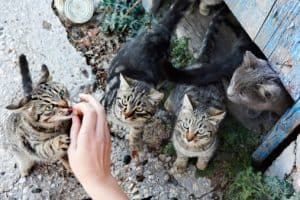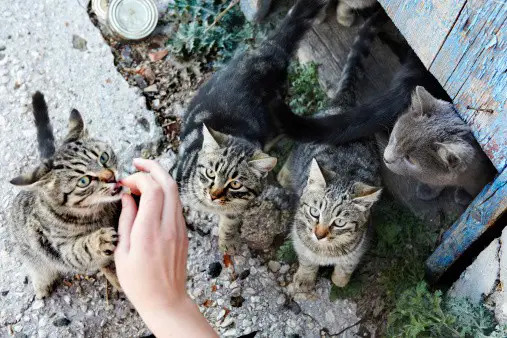 These cats, homeless and outside, did not ask for this.  They are here through no fault of their own and most have been abandoned by humans, or are strays. They are not vermin. They are victims. 
There is currently 95% of our population that does not understand exactly what TNVR is.  If they did, I believe community cats would have much more support.  The majority of humans are kind and humane.  The issue of community cats and TNVR needs to be explained much more openly and widely, so that more and more understand it.  Together, we can then save more of these beautiful animals.
I realized I had 12 items on my list and that there are 12 months in each year.  I took this coincidence to create a monthly awareness schedule and the Community Cat Movement was born!
Will you join us in this Movement?  Will you come learn or help us teach others about community cats?  The time for change is now!  Community Cat Movement is aimed at bringing the issue of community cats mainstream. Our hope is to realize a future in which everyone is fully aware of exactly what TNVR is.
Beth Frank is the sole Founding member and President of Community Cats United, Inc., a group formed in September of 2014 (Trap-Neuter-Return Community).  Presently, there are over 7200 members and over 925 groups from 77 countries and all 50 US states, joined together to help and support community cats.
So, will you join the Community Cat Movement? Here's how:
Community Cat Movement
https://shoutout.wix.com/so/2afa04a5-a0ff-4dac-bbe7-91d3b18888cd#/main
Facebook  https://www.facebook.com/profile.php?id=1646598385609085&fref=ts&ref=br_tf
Twitter
https://twitter.com/CommCatMovement
Website
https://www.communitycatmovement.org/