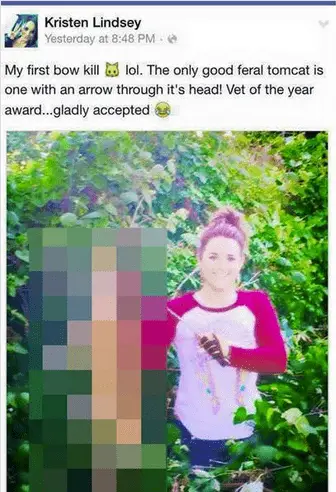 The Texas Board of Veterinarian Medical Examiners reviewed the case of Brenham veterinarian, Kristen Lindsey, who is accused of killing a cat and then bragging about it on Facebook when she posted a photo of herself proudly holding up the cat with an arrow through it's head. The photo went viral, causing outrage among animal lovers across the world.
Though Ms. Lindsey was fired from her veterinary job the day her photo went viral, the community called for animal abuse charges against her. She appeared before the Austin County Grand Jury on June 24th and – to the shock and horror of the animal community – she was not charged with animal abuse. At the time, the district attorney's office said in a statement that there was insufficient evidence to convict Lindsey of any charges.
Now, Kristen Lindsey once more had to defend her actions in front of the Texas Board of Veterinary Medical Examiners. In order for Lindsey to practice veterinary medicine in the state of Texas, she must be licensed through the Board.
After thoroughly reviewing Ms. Lindsey's case, the Board found a violation, and decided that she did, indeed, break it's rules. Their decision was announced today, and the Board has decided to revoke Ms. Lindsey's veterinary license.
Now here's where it gets tricky: Lindsey has rejected the Board's decision. So, the case will be referred to the State Office of Administrative Hearing (SOAH). Because Ms. Lindsey rejected the Board's decision, she technically still has a license to practice veterinary medicine in the state of Texas, for now.
The Board will argue the case before an administrative law judge to get Lindsey's license to practice permanently removed.
We're hopeful that Tiger, the cat that Kristen Lindsey killed, will soon finally get the justice he deserves.