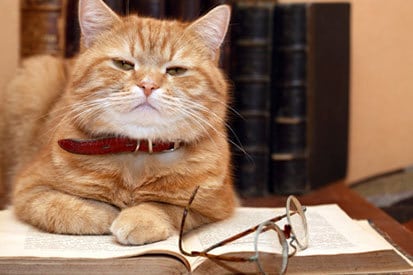 Are you fed up with a feline that bites? Concerned for a cat with anxiety issues? Or, in desperate need for your kitty to stop spraying? Yes, cats can be trained – and we want your toughest kitty training questions!
The Catington Post is thrilled to announce an exciting new partnership with certified trainer, Jennifer Mauger  to bring you tips and tricks for training your cat and to answer your toughest training questions!
Jennifer Mauger CPDT-KSA is a Certified Professional Dog Trainer through the Certification Council for Professional Dog Trainers and owner of both L'Chaim Canine and L'Chaim Feline.  Her interest in working with cats began after going into homes where, although she was working with the dog, Jennifer saw that the cat was also in need of behavior modification and mental enrichment.  She wanted to be able to advocate for the cats from the point of view of a professional.  So she began attending Feline Behavior seminars at venues such as the Midwest Veterinary Conference in order to learn the latest in scientific information available in behavior and behavior modification.  Using the same scientific principles of learning theory she uses with the dogs she now works with cats and their guardians all over Northeastern Ohio. Recently her Kitten Basics class was featured in the Akron Beacon Journal. The article ended up being seen nationally through syndication.  Jennifer is also owned by a rescue Bengal named Shira and a rescued Domestic Shorthair Tabby-Tortie named Adi.
Jennifer will be answering YOUR training and behavioral questions with scientific and positive answers. Her mission is to build positive relationships by using clear communication, not pain and fear.
To learn more about Jennifer, visit www.lchaimfeline.com.
To ask Jennifer a question about how to positively train your own cat, look for the "Ask the Trainer!" icon on our Front page, or click here.
Please leave a comment giving Jennifer your warmest welcome to The Catington Post, then go LIKE her on Facebook by clicking here.