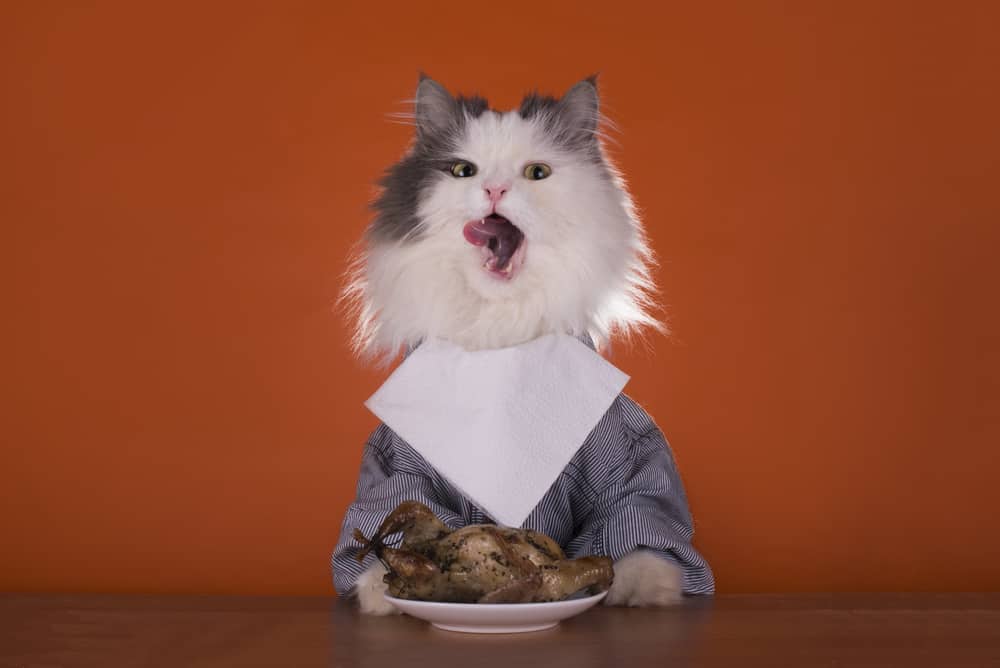 Thanksgiving is about so much more than a massive turkey dinner – it's a time to gather with family and friends (two and four-legged alike!) and focus on the good things in life. In an effort to include furry family members in the feast-ivities without putting them in danger of gastrointestinal upset or even pancreatitis, Petplan pet insurance has put together a collection of Thanksgiving-themed recipes especially for pets!
On an average day, Petplan policyholders spend about $428.92 on veterinary treatment for stomach upset, but over Thanksgiving weekend the same treatment soars to $614.72. Why the hefty price tag? Many vet hospitals have limited hours or close for the holiday weekend, meaning pets must visit an emergency clinic for treatment.
The good news is that preventing dinner disasters is easy: don't feed pets from the table! Instead, take a page out of Petplan's (veterinarian-approved!) cookbook and make a few Turkey Day treats fit for felines. Everything can be created with ingredients already on hand, and unlike table food handouts, they're safe to offer pets.
Here's what's on the menu: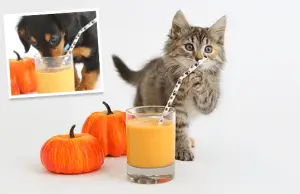 Pumpkin Smoothies
While your guests sip cocktails, dogs and cats can wet their whistles with this creamy pumpkin drink that's packed with fiber and digestion-friendly probiotics. Bonus: freezes well for longer-lasting licking!
ingredients
½ c. canned pumpkin puree
½ c. plain non-fat yogurt
directions
Place pumpkin and yogurt in a blender and blend on high until smooth.
Evenly pour mixture into 8 small paper cups. Either refrigerate or freeze overnight, or serve right away.
Yields: 8 servings
Calories per smoothie: 13
Pumpkin is packed with fiber and vitamin A and can help soothe upset stomachs.
---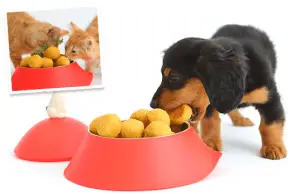 Roasted Turkey Medallions
Slice a few slivers when the turkey comes out of the oven to create these mouth-watering morsels. Baking them is so quick and easy, they'll be done by the time the turkey hits the table.
ingredients
6 oz. white meat turkey, cooked
½ c. chopped carrots
½ c. ground quinoa or oatmeal
directions
Preheat oven to 400°.
Place turkey and carrots in a food processor and blend until smooth.
Add ground quinoa or oatmeal and blend until mixed.
Roll into 1-inch balls (or smaller, if your pet is petite) and place on a non-stick cooking sheet.
Bake 15 minutes.
Yields: 30 servings
Calories per medallion: 17
Turkey provides potassium and essential amino acids and is a protein-packed snack.
Want to see more pet-friendly Thanksgiving recipes? See the full menu from Petplan here.
---
ABOUT PETPLAN

Petplan is more than a pet insurance provider. We're dedicated to providing pet parents with the support, resources, and tools they need to keep their pets not just surviving—but thriving—into their old age. Simply put, we aim to be the kind of company that will make our pets proud. For the third consecutive year, Petplan was listed among the top 50 companies on Forbes' annual ranking of America's Most Promising Companies – a list of 100 privately held, high-growth companies with bright futures. Petplan is the only pet insurance provider to have been included on Inc. Magazine's list of 500 fastest-growing, privately held companies in America.
 Petplan's fully customizable cat and dog insurance policies provide comprehensive coverage for all hereditary and chronic conditions for the life of the pet as standard. For more information about Petplan pet insurance, visit www.petplan.com or call 1-866-467-3875.
The Catington Post is reader-supported. That means, if you make a purchase through links on our site, we may earn an affiliate commission. All images and names which are not the property of The Catington Post are the property of their respective owners.