Binky the cat is being hailed as a hero after he single-handedly – er, single-pawedly – stopped a burglar from entering an Indianapolis home this week!
 The burglar showed up at Cynthia Kootz's home around midnight, determined to get inside. First, he was repeatedly banging on the door. After Kootz told him to go away, he attempted to climb in through the window.
That's when Binky the grey tabby stepped in.
When the intruder's hand came through the window, Binky bit him. While Binky was attacking the suspect, Kootz dialed 911, who dispatched police to her home. Just as police arrived on the scene, the burglar decided Binky was too much for him and ran from the window – right into the police.
The police arrested the would-be burglar, 41-year-old Earl Scruggs, who was bleeding profusely and had to be treated by paramedics for his injuries. He was arrested for vandalism to the window and residential entry.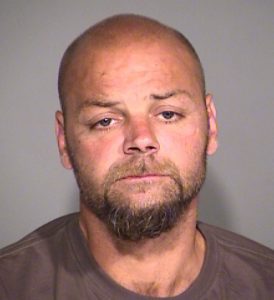 Based on jail records, this is not his first run-in with the law – but it's probably the first time he was brought down by a cat! Way to go, Binky!