Rover's Ninth annual report shows COVID-19, Britney Spears, Disney+, Cryptocurrency, and other 2021-inspired events are influencing pet naming.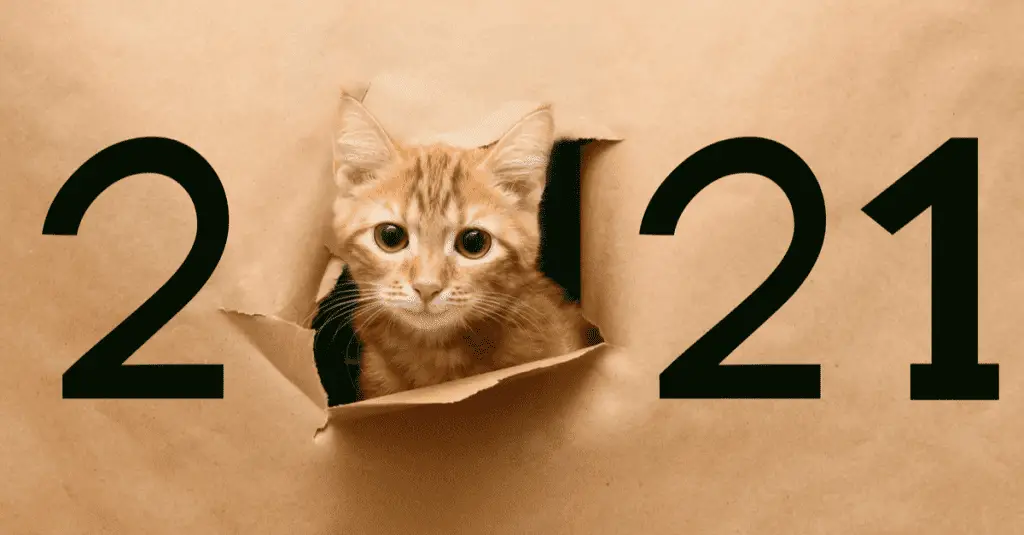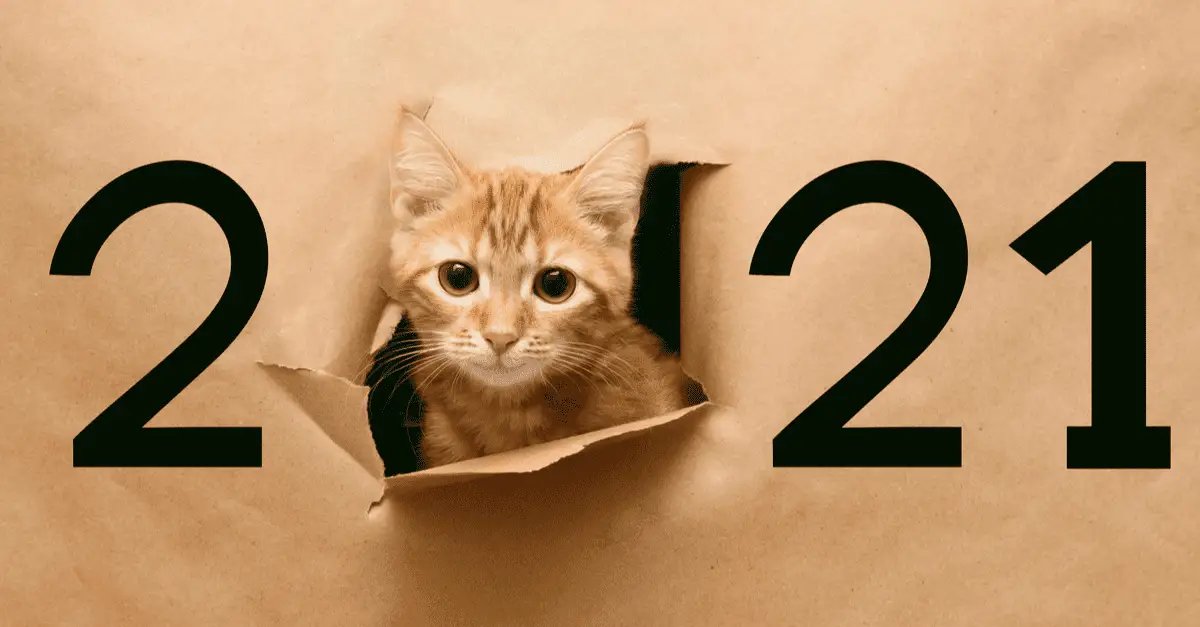 Rover.com, the world's largest online marketplace for loving pet care, unveiled its ninth annual report of the year's most popular pet names. The names we choose for our pets often reflect the things that matter most to us, from our passions and interests to what's happening in the world around us.
With soaring pet adoption rates and extra time spent at home over the past year, a lot of dogs and cats were given new names in 2021 that showcase the personalities of both the pet and pet parent.
Entering a second year of the pandemic, COVID-inspired names remained on the rise with the name Fauci — first debuting on the list in 2020 — up 270 percent and Covid up 35 percent. For the first time, we saw a dog named Dr. Fauci, and with the vaccine, availability came pups named Pfizer.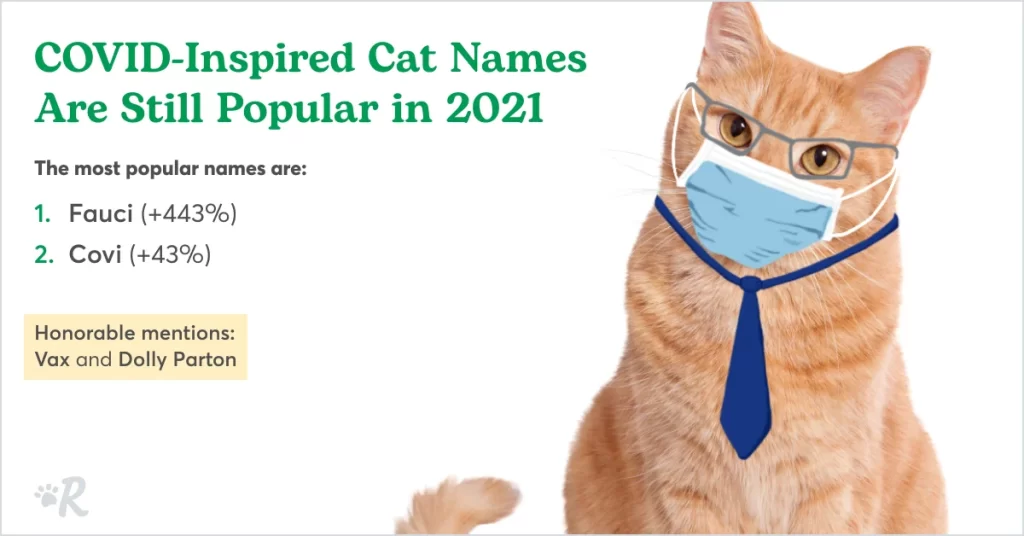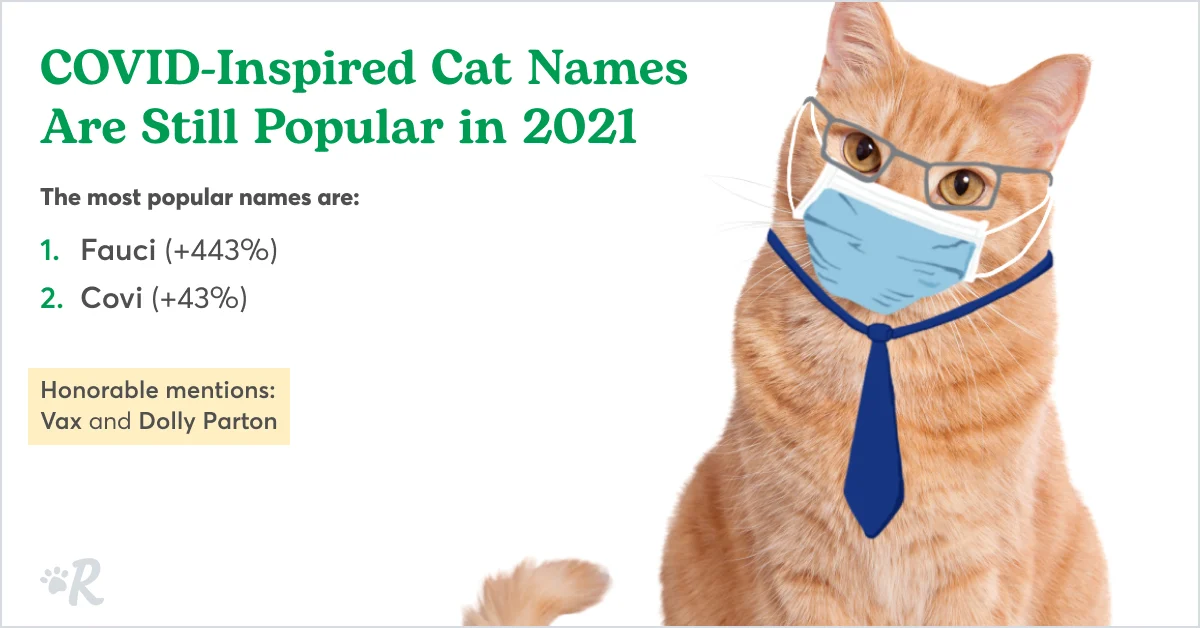 As endless Zoom calls and work from home tech maintain their stake in our day-to-day lives, dogs named Zoom were up 443 percent, Siri up 131 percent, and Google up 63 percent. 
With the first half of the year largely spent inside our homes, it's no surprise binge-watching inspired pet parents. Disney+ seemed to be the preferred streaming platform for inspiration. Grogu from Disney+'s The Mandalorian became the #1 trending dog name in the country up 4,000 percent. Raya from Raya and the Dragon was up 436 percent and dogs named Wanda from the popular show WandaVision were up 143 percent.
Netflix also broke through with steamy Netflix hit Bridgerton, inspiring an uptick in dogs named Daphne and the first-ever dog named Lady Whistledown.  
"Each year our annual top pet names report showcases what cultural moments made an impact and clearly, the pandemic was a big factor. From sports to the TV shows we binge-watched, our pets' names were shaped by a truly unique year," said Kate Jaffe, trend expert for Rover. "With the continuation of work from home, our bonds with our pets have grown even deeper." 
The humanization of pets continued in 2021, as revealed by Rover's survey of 1,000 pet parents in the U.S. The majority (61 percent) of pet parents said their pet either has a human name or they would consider a human name in the future (18 percent) — more than half of respondents even gave their pet a name they were saving for a potential child name.
Another 75 percent said they took potential nicknames into account when choosing a pet name. And, the naming process is truly a reflection of individuality, as a pet's personality is the most popular inspiration for pet parents when choosing a name. 
To better understand the stories these names have to tell us about the people, places, and events that defined the past year, we dug into millions of user-submitted pet names provided by owners on Rover.com. We uncovered everything from ever-popular pet names to newly trending ones and some completely unique names we never saw coming. 
Celebrities and Musicians Continue to Inspire
Chadwick Boseman passed in late 2020, but the Black Panther lived on in pet parents' hearts: dogs named Boseman were up 1,063 percent and cats named Chadwick were up 400 percent.
Free Britney! For the first time, we saw pups named Britney Spears on the list, and the name "Crazy," potentially inspired by her 1998 hit, is trending up by 68%. Also new this year: a dog named Jamie Lynn!
Are Swifties losing interest? The names Taylor and Taylor Swift were both trending down, but we expect an uptick in 2022 following the re-release of "Red."
The name Kanye saw a drop in 2021 as well, but the infamous rapper's Adidas footwear line inspired – cats named Yeezy were up 513 percent.
Talk Show No Mo': Cats named Ellen were down 129 percent while Oprah trended up by 76 percent.
BTS-inspired dog names were up 32 percent: the most popular being Suga, Kim, V, and Jin, with dogs named Suga up 113 percent.
Music-inspired cat names appeared on the list for the first time including: J-Hope, Halsey, Dua Lipa and Aretha Franklin.
Friends Reunion
With the HBO Friends Reunion special, Friends character names topped the charts:
 Dogs named Phoebe Buffay saw a 963 percent spike
Other top names included: Joey, Gunther (in honor of the late James Michael Tyler), Chandler and Ross
Football's Back Baby! 
After almost a year without live sports, fans are filling the stadiums and America's favorite sport inspired the following:
Sea-who? Seahawks. Wide receiver, DK [Metcalf] was the #1 top trending dog name inspired by football (up 563 percent).
The 49ers tight end–[George] Kittle was up 63 percent.
Chiefs quarterback–[Patrick] Mahomes was up 63 percent.
Former New England Patriot–Gronk–was the #1 trending football-inspired cat name of 2021 (up 276 percent).
Hello Tampa Tom: Brady is trending up in his new hometown–Tampa–while trending down in his old stomping grounds, Boston.
Olympic Winners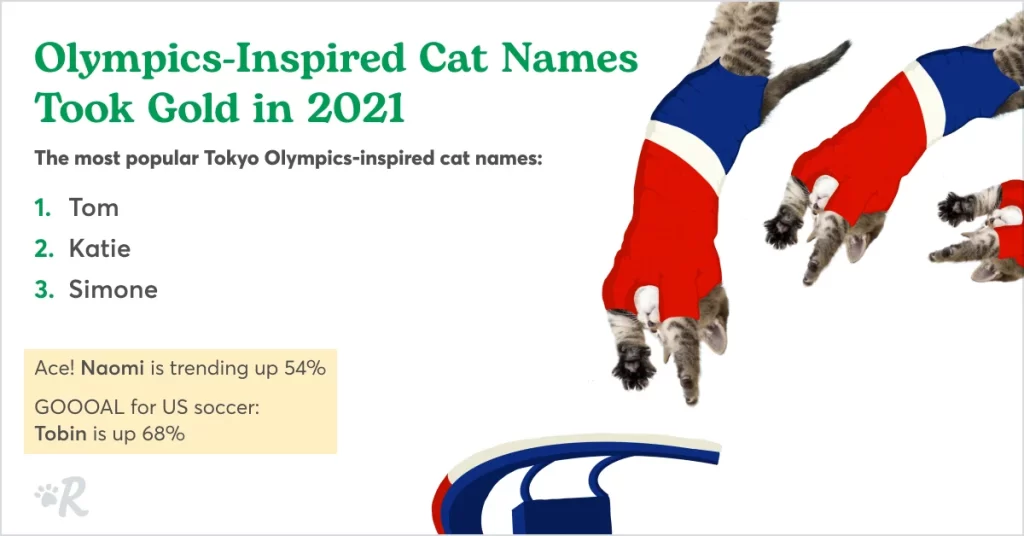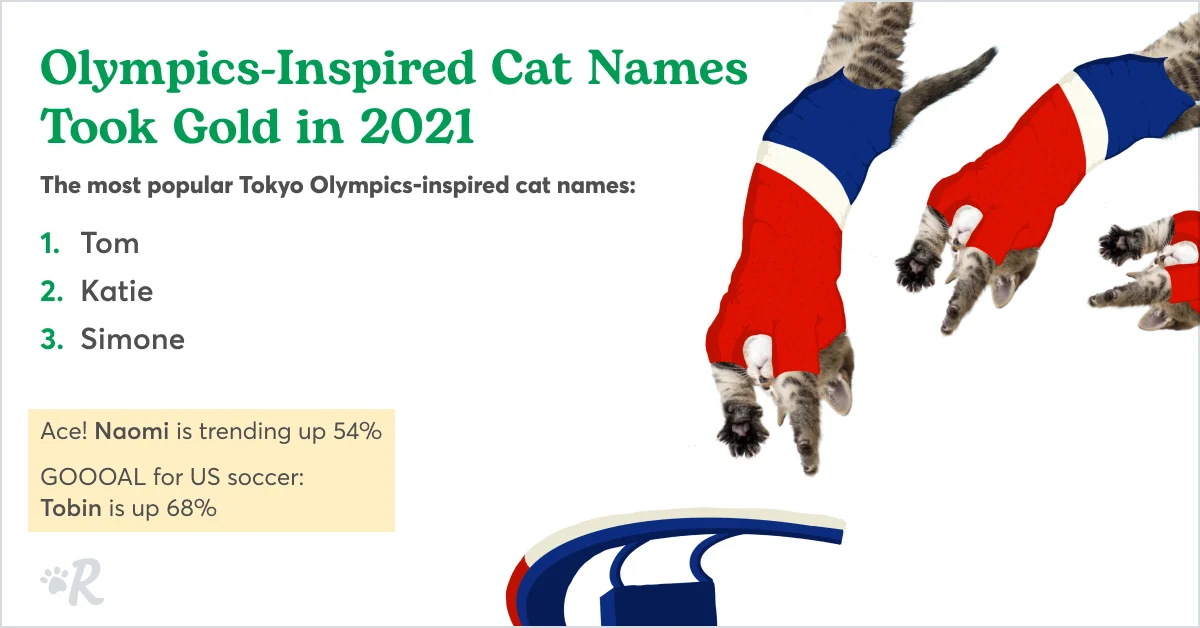 The Tokyo Olympics influenced dog names this year. The dog names that took the gold included: 
Suni (up 113 percent) and Tom (up 67 percent) were the top trending Olympics-inspired names. 
Naomi, Simone and Katie were amongst the most popular Olympics-inspired names (by volume).
Meatless and French Foods Set a Trend 
Since the pandemic began, demand for vegan meat has soared and meatless pet names were trending up for dogs this year by 30 percent!
The most popular names were Bean(s), Tofu and Almond.
Our favorite carb alternative, Cauliflower, was up 163 percent.
And dogs named Paneer and Tempeh even made the list. 
With another year spent at home, pet parents drew inspiration from their favorite foreign foods, and this year French food stood out more than any other cuisine. 
For dogs, Caviar was up 800 percent and Dijon was up 700 percent.
For cats, Baguette was up 600 percent and Raclette was up 300 percent.
Crypto Craze 
Meme-worthy cryptocurrency, Dogecoin, had a major moment in 2021 and dog parents followed suit. Dogs named Doge were up 106 percent. 
For the first time ever, the name Bitcoin appeared on the list and cats named Bitcoin were trending. 
Tech Titans and the Space Race
2021 was a big year for all things space, including dog names. The top trending space-inspired names for dogs in the U.S. were Solstice (213 percent), Aster (195 percent), and Nebula (80 percent). 
For the first time ever, dogs named Elon Musk and Bezos made the list, while cats named Elon were trending up by 343 percent. 
Who is top dog?
2021 Top Female Names for Dogs: Bella (top baby name), Luna (top baby name), Lucy (top baby name), Daisy, Zoe (top baby name), Lily, Lola, Bailey, Stella, and Molly 
2021 Top Male Names for Dogs: Max (top baby name), Charlie, Milo, Buddy, Rocky, Bear, Leo (top baby name), Duke, Teddy, and Tucker 
Top Cat Names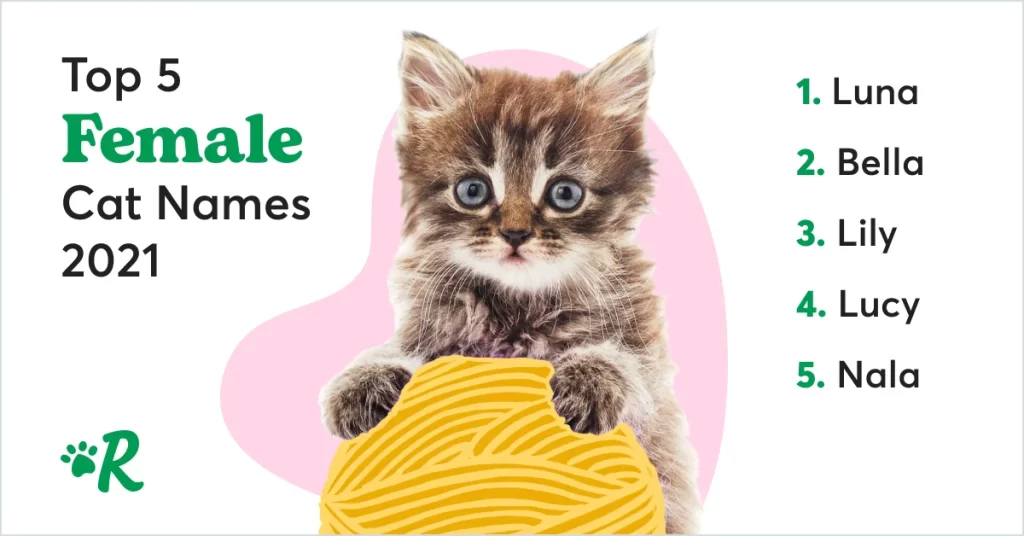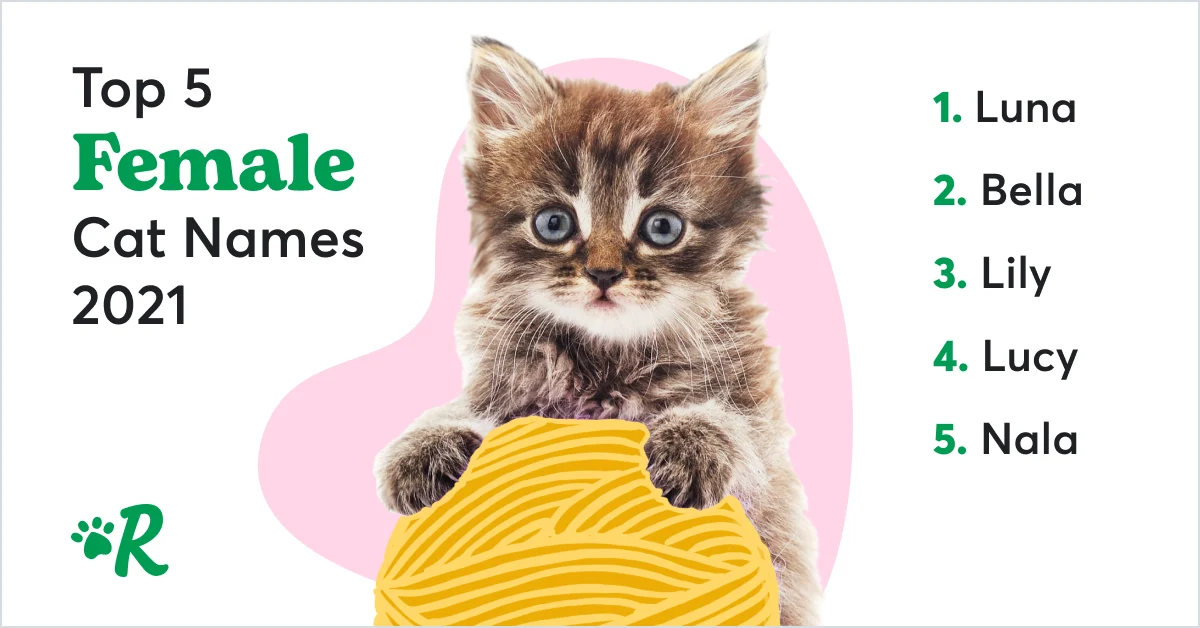 2021 Top Female Names for Cats: Luna (top baby name), Bella (top baby name), Lily, Lucy (top baby name), Nala, Kitty, Chloe, Stella, Zoe (top baby name), and Lola
2021 Top Male Names for Cats: Oliver (top baby name), Leo (top baby name), Milo, Charlie, Max (top baby name), Simba, Jack (top baby name), Loki, Ollie, Jasper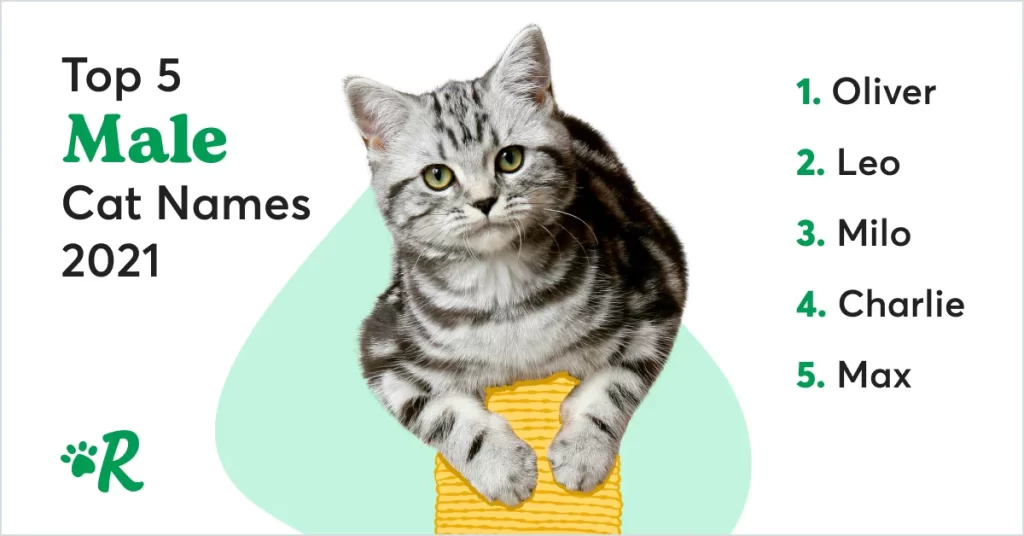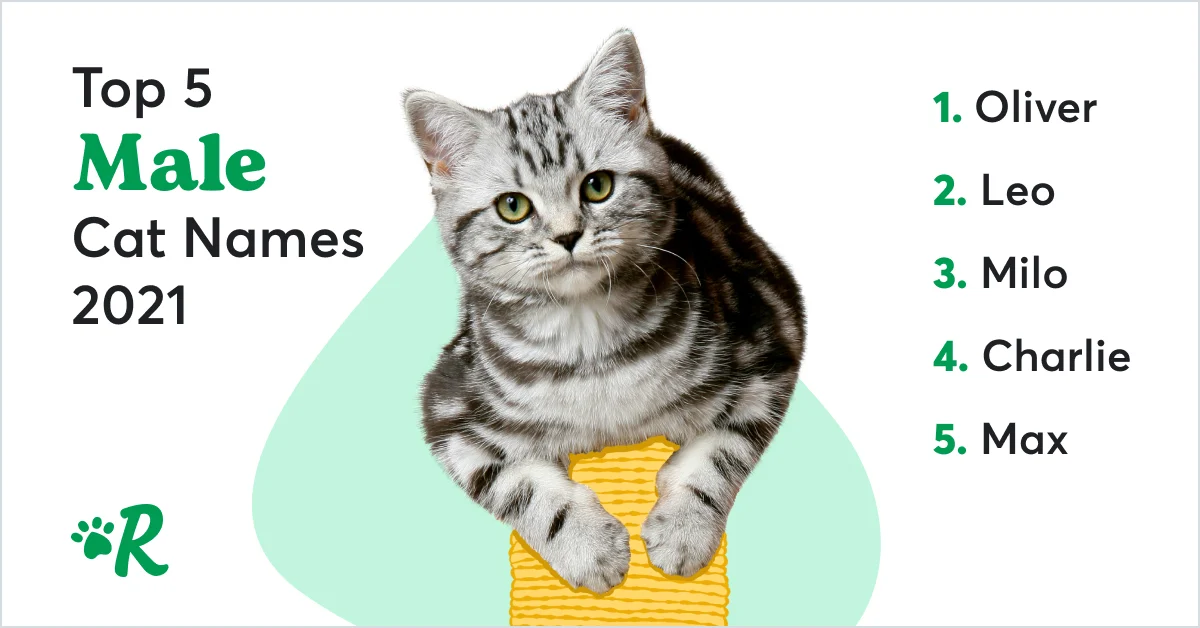 For a full list of the top dog names and trends of 2021, as well as the top dog names in 26 metro markets across the US, please visit here.
To see the top male and female cat names and trends of 2021, please visit here.
Top Pet Names reports were also created for the UK, Canada, Germany, France, and Spain. 
Methodology 
The Top Pet Names 2021 report was developed by Rover between September and October 2021. Results are based on analysis of millions of user-submitted pet names provided by owners on Rover.com. Secondary data was collected by a Rover survey conducted via Pollfish among 1,000 US-based adult pet owners in October 2021. 
About Rover
Founded in 2011 and based in Seattle, Rover® is the world's largest network of five-star pet sitters and dog walkers. Rover connects dog and cat owners with pet care whenever they need it. Millions of services have been booked on Rover, including pet sitting, dog walking, in-home boarding, drop-in visits, and doggy daycares. Rover makes it easier for people to have pet love in their lives through the Rover Guarantee, 24/7 support, vet consultations, and GPS walk mapping. The Rover blog,  a trusted resource for millions of dog and cat parents worldwide, provides tips and articles that delight, inform, and enhance the bond between people and their pets. To learn more about Rover, please visit https://www.rover.com.