A shocking and graphic video posted to the social media site, Snapchat that shows a teenage boy throwing a cat named Spots into the street is under investigation by police in San Bernardino County, California.
The horrific 10-second video is said to have been filmed in Ontario, California. The 16-year-old, identified on the social media platform as Charlie, is seen standing in a front lawn holding Spots with both hands, then throwing her high into the air. The video shows the cat landing in the middle of the street and you can hear her screaming in pain. (We are not sharing the video as it is too graphic and disturbing.)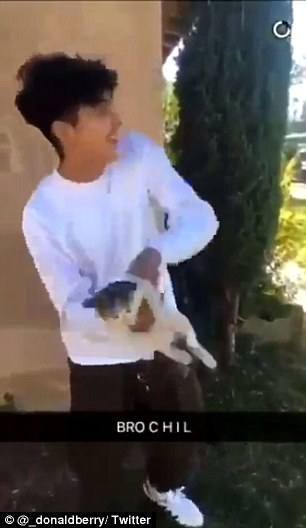 The video ends there, but officials said Spots survived the ordeal with a broken leg:
We are investigating the animal cruelty to a cat video. We have located the cat & owner. The cat has leg fracture but is going to be ok.

— Ontario Police Dept. (@OntarioPD) December 2, 2017
According to NBC San Diego:
The cat now has a cast on one leg and wrapping on her other front leg. The vet says irregular blood tests suggests she suffered internal injuries as well. She'll stay at the animal hospital so that vets can monitor her progress.
As of Sunday morning, police announced that they know the identity of the 16-year-old but they are not releasing his name due to his age.
No arrests have been made and the investigation is ongoing. The suspect could be facing a felony animal cruelty charge.