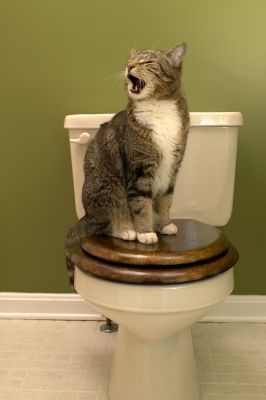 Wouldn't it be wonderful to never clean a litterbox ever again?
Training your cat to use the toilet, rather than a messy, smelly litterbox, is easier than you might think! And, you don't even have to run out and buy any fancy gadgets to do it.
That's right, you can toilet train your cat with just a little patience, your cat's intincts, and some items you likely already own!
Watch the video below for step-by-step instructions on easily toilet training your cat and say goodbye to smelly litterboxes forever!
Tips to remember:
– Never force your cat, or push her to use the toilet before she's ready. Be patient and let her advance at her own pace. It may take weeks, even months, but the reward will be worth it!
– Make sure the lid to the toilet is secured in the open position. You may even want to tape it to the toilet tank. Should kitty decide to rub against the lid, it may come crashing down on her; at worst, causing injury and at best, scaring her away from using the toilet ever again!
– If possible, use a flushable litter during the training phase, to avoid damage to your plumbing.