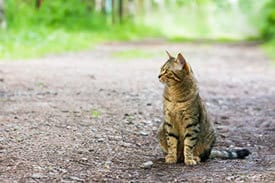 Police and SPCA in Stouffville, Ontario – about 27 miles northeast of Toronto – are urging cat parents to keep their kitties indoors after a series of severed cat heads were found in public locations throughout the city.
All six heads were found within about a half-mile area. Police report that the incidents do not appear to be accidental or the result of an animal predator. Additionally, no blood and no other body parts have been found at these locations; leaving police no choice but to believe these were deliberate acts – the heads were place intentionally for someone to find them.
The heads were found in the following locations:
1) August 12, 2013: Montreal Street and Stouffer Street (head found in an area of a daycare)
2) Sept. 5, 2013: Lori Avenue and Stouffer Street (near a curb of a residential area)
3) Sept. 8, 2013: Tenth Line and Hoover Park Drive (end of a roadway)
4) Sept. 9, 2013: Main Street and Stouffer Street (on a curb near Summitview Public School)
5) Sept: 11, 2013: Thicketwood Boulevard and Hoover Park Drive (next to curb on a roadway)
6) Sept: 13, 2013: Montreal Street and Stouffer Street (in front of a residential lawn)
In all but one of these cases, police are unsure of the cat's identity; whether they are pets, ferals, or strays. In the sixth case, on September 13th, the homeowner found her own cat's head in her lawn.
In a press conference, Const. Andy Pattenden said,
The concerning thing to York Regional Police and what should be concerning to the citizens of Stouffville, is the link to all these events. They all occurred in a relatively short distance. We're looking at an area of approximately one kilometer where all of these events took place. All of the areas where the heads were located are all residential areas, it's not a rural environment. It's where people would see or be seen. The position of each of the heads appeared as though it was placed and not dropped accidentally or pushed around by something like a motor vehicle. In each of the incidents, it appears at this time, that it was intentional dismemberment.
York Regional Police are working with the SPCA to bring the investigation to a conclusion. Police have asked residents to come forward with any information that could help with their investigation. In the meantime, those in the area should keep their cats indoors and report them immediately if they go missing.