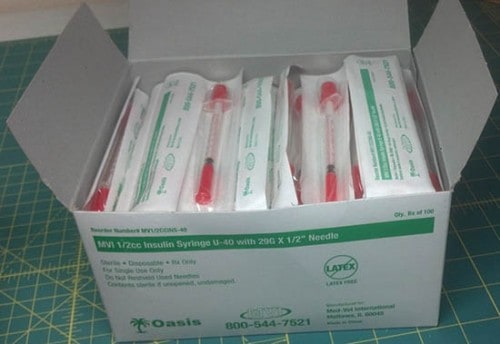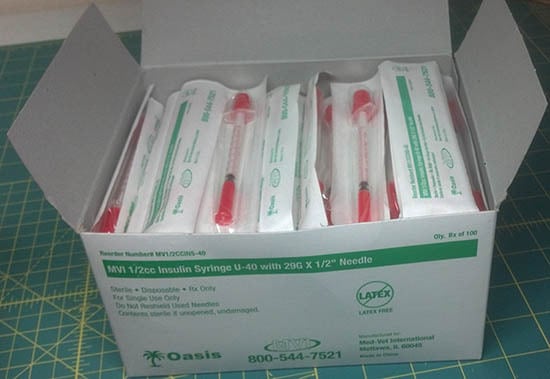 Med-Vet International has initiated a nationwide recall of 140 boxes of 1/2cc U-40 insulin syringes. The syringes have been found to be labeled with 40 units per 1/2cc syringe and they should be marked with only 20 units per 1/2cc, which potentially could result in lower than prescribed doses of insulin. Animals receiving subtherapeutic doses of insulin may exhibit signs and symptoms consistent with hyperglycemia including, but not limited to dehydration, increase in thirst, increase in urination, malaise or lethargy, and urinary tract infection in addition to increasing the risk of developing diabetic ketoacidosis. The long term failure to adequately control blood glucose levels can result in vision problems, neuropathy, and damage to the pancreas.
Consumers who have these insulin syringes should quarantine all products subject to recall. In addition, if you may have further distributed this product, please identify the customers at once and notify them at once of this product recall and to quarantine the product.
Recalled 1/2cc U-40 insulin syringes were manufactured May, 2012 and distributed from Jan 2013 to Feb 2014 to consumers, animal hospitals, animal shelters, farmers, and veterinarians.
The following 1/2cc U-40 insulin syringes have been recalled:
140 boxes of 1/2cc insulin syringe U-40 with 29g x 1/2" needle. Lot Number: 20120610
The product can be identified by Item number: MV1/2CCINS-40 or 1/2CCINS-40 by Oasis.
Med-Vet International voluntarily recalled the syringes after becoming aware of the mislabeling. Med- Vet International has notified the FDA of this recall action.
No injuries have been reported to date.
Med-Vet International is notifying its distributors and customers by email and recall letter and is arranging for return of all recalled 1/2cc U-40 insulin syringes.
Med-Vet International distributed the 1/2cc U-40 insulin syringes nationally to veterinarians and customers.
Consumers with questions may contact the company via telephone at 1-800-544-7521 between the hours of 9am and 5pm central time. Consumer may also contact the company via e-mail at customerservice@shopmedvet.com.
See the FDA's recall press release by clicking here.