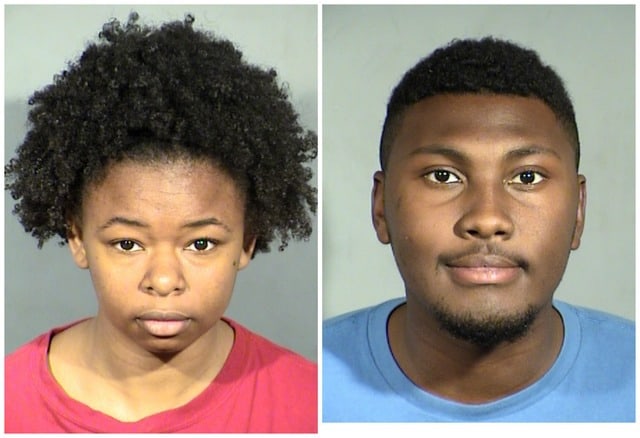 Immanuel Church, 20, and Denise Eddines, 21, face felony charges for torturing and killing a cat that belonged to the Las Vegas family they were living with. About 6 weeks ago, Nia Wulkan rented a room in her home to the couple. She had to leave town with her son Zane to help an ailing family member and asked the couple to look after her pet cats and dogs.
Nia returned home last week to learn that one of her cats – a tiny 5-pound cat named Spunky – had been brutally tortured and killed. The couple told her they had killed the cat because it had "hissed and pawed them while in Nia's bedroom watching television."
According to arrest reports obtained by the Las Vegas Review Journal:
The two engaged in a protracted killing of the animal, stabbing it twice, kicking it against the wall and pouring a mixture of hot sauce and bleach down its throat and into its nose and eyes. Eddines and Church believed the poisonous cocktail would rid the cat of its demons.
In addition to the hot sauce, the pair admitted to using a fire extinguisher on the cat. The report also says Eddines and Church pinned the cat to the wall with a sword, leaving it to bleed to death. The cat suffered for 30 to 40 minutes before it died. They then put the deceased cat in a plastic container and then plastic bags and took the cat to a nearby front yard and discarded it.
Las Vegas police arrested Church and Eddines on 2 counts each of willful and malicious torture, cruelty or unjustifiable injury, and the maiming or killing of an animal that belongs to someone else. They are being held on $3,000 bail at the Clark County Detention Center. They are scheduled for a preliminary hearing at 9:30 a.m. March 13.
Fortunately, this crime is a felony in the state of Nevada and we hope they are punished to the fullest extent of the law.