Does your home have a scent that announces the presence of your cats before they're even seen? Well, you're not alone! And there's a fix! We found it – in a bottle of odor eliminator called NOse Offense.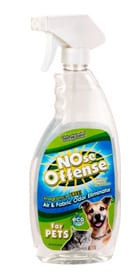 Created by a father and daughter team, NOse Offense is all-natural, organic, and green. The company asked us if we'd like to review their product and the team decided I was most qualified. (Something about having the stinkiest pets? Should I be offended?!)
So I put NOse Offense to these (un-Scientific) Stink Tests:
Test 1: My couch. Yes, I share my couch with my pets. So it has, over time, absorbed some less than desirable scents. I use sprays that work well, but they're loaded with perfumes that mask odors. So for my first test, I misted the couch cushions with NOse Offense, waited a few seconds, leaned in for a big whiff and smelled… absolutely nothing. No perfume, no chemicals, and best of all, no odors!
Test 2: Litter Box. Perhaps the most offensive pet odor of all time is the litter box. I misted NOse Offense over it after scooping twice a day to keep cat box odors at bay. For the record, this is now where I keep my own bottle of NOse Offense for daily use. Unlike a room spray that just mixes flowery scent into the air right along with the cat box smell, NOse Offense actually got rid of any lingering stench and left no scent behind.
Test 3: Olivia the Sphynx. Quite possibly the toughest test of all, Olivia was due for her weekly bath and was stinking up the joint! NOse Offense is completely safe to spray the product on a cloth and wipe down your pet's coat (or skin, in Olivia's case since she's a Sphynx!) It won't replace her bath, but it definitely got rid of her stink! This would be a great solution in a pinch if surprise visitors pop over and I don't have time to bathe her!
How does it work? NOse Offense is actually an odor neutralizer, not a deodorant or perfume. It doesn't mask the smell with another scent – it bonds with the odor molecules to eliminate them. In addition, the company's goal is to provide effective products that are 100% safe for our pets. NOse Offense is safe, non-toxic, organic, biodegradable and manufactured to be 100% free of enzymes, alcohol, phenol & phenol derivatives, phosphates and phthalates.
For a more detailed explanation of why phthalates in air fresheners are considered dangerous to humans and pets, take a look at a report from the National Resources Defense Council here.
I most definitely recommend NOse Offense for Pets Odor Eliminator. The bottle is now a permanent fixture next to the litter scoop and I spritz daily to keep odors away. And, I keep a travel bottle in the car for stink emergencies on the go!
Learn more about NOse Offense, or purchase it by clicking here. Our friends at NOse Offense are offering a 20% OFF coupon to Catington Post readers! Just enter the code CAT20 to save 20% off your first purchase!