The toilet trained kitty was Mr. Jinx, the cat from the movie Meet the Parents!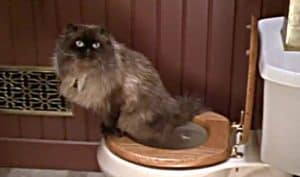 Jinx was actually played by two five year-old Himalayan cats, Bailey and Misha.
Before filming began, both cats spent time on the set getting to know the actors and surroundings so that they felt comfortable during the shoot. Two trainers and a veterinarian were on the set at all times.
Well, how well do you know your famous movie cats? What other cats do you remember from the movies? Tell us in a comment below!